This week we have the Pure Brand Nutrition Post Workout Recovery Drink Product Review.
Author introduction
Date: March 2018
Author: Scott Maguire (43 years)
Profile: Experienced Triathlete – Multi Ironman & Director Trivelo Bikes Ltd
Post training recovery supplements are incredibly important. Following an event or brutal training session your muscle fibres are damaged and need to repair. For muscles to repair themselves properly our bodies crave a mix of nutrients, protein and electrolytes.  The period immediately following extreme exercise is when your body best absorbs the nutrients it needs to start the repair process. This is when pre-prepared drinks or shakes can deliver all the nutrients your body needs in a convenient, natural, hit to rebuild damaged muscles…. ready for you to go again!
But with such a huge range of post workout nutritional supplements to choose from it's tough to find one best for you. I've used many different brands over the years, some good, some awful, but here's my review of relative newbie – Pure Brand Nutrition.
Who are Pure Brand Nutrition?
Around for a few years Pure Brand Nutrition promote "research backed products with a great taste".  They offer a wide range of natural nutritional supplements for sportsmen and women engaged in vigorous, energy sapping sports. I've reviewed their range of post workout products specifically, and through the eyes of a multi sport athlete and against a set of standard criteria. I hope you find the review useful.
So you know, I'm currently training for my first Ultra Marathon, so I'm doing more run miles per week than I've done in my life. I've been using only Pure Brand Nutrition supplements now for over a month.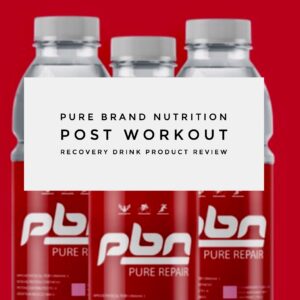 It's important to remember that what works for some may not be right for others. Taste will be subjective and the ingredients EG the protein/carbohydrate mix % required will differ by individual and the type and level of exercise you're doing. A wise old (ex Kona) tri-coach once told me to "ALWAYS listen to what your body is telling you, that's the most important thing". Nutritional supplements are brilliant when putting your body through the stresses and strains of hard training but they're not a miracle cure for injury and should be used in combination with a healthy diet. But you all know that!
Why do we need them?
The reality is we don't, our bodies can support us perfectly well without them but the greatest upside to these products is convenience.  As I've said before, there is no substitute for a healthy diet, but we simply don't have the time or inclination to prepare a full, well-balanced and healthy meal with the correct balance of proteins, different vitamins and nutrients within 30 minutes of a training session or event.  You could have a great meal soon'ish after, but your muscles won't receive the protein and BCAAs when needed the most.  So here's my review of Pure Brand Nutrition's post training recovery drinks following over a month use.
Taste 5/5
Pure Brand Nutrition have obviously worked hard to deliver the recovery/body repair qualities of a recovery shake but with a great taste. Top marks here. I started to believe that recovery drinks only ever came in chocolate, strawberry or vanilla flavours but was delighted to be introduced to PBN's red apple flavour. My new favourite. Recently I've been using 'Pure Sustain' it in my Camelbak reservoir for my 15mile + training runs as it makes a refreshing change to gels! PBN drinks do come in the more standard choc and vanilla flavours too for those of you with a less adventurous palate.
Price 4/5
I'd say about middle of the range. Not too expensive but reassuringly not too cheap either. For example a batch of x12 Shake-n- Take bottles are currently on offer at £20. This works out at £1.66/bottle. I think that's reasonable and makes this an affordable long term approach to your training.
Performance 4.5/5
More than ever I found myself ensuring I follow a strict regime of using a PBN Pure repair shake following each workout. Training for me consist of long runs followed my another run or long bike the following day. I've found myself feeling strong and have been surprised by my energy levels and lack of muscle fatigue during a second and third day of tough training. I'm not saying that my bodies ability to recovery quickly is due entirely to my religious use of PNB recovery supplements but so far training to going well and most importantly …no injuries.. which is always in the back of our minds right !?  I've given 4.5/5 as a sensible approach to training and healthy diet generally will ensure best performance but so far so good with Pure Brand in reserve.
Ingredients 4/5
I'm no sports scientist or qualified nutritionist but I'm happy to share with you what I've picked during the years of training and chatting with other athletes and how this relates to the ingredients used by Pure Brand.  I'm a fan of a post exercise drinks that deliver a blend of both carbs, to replace energy, and protein for recovery and repair. Pure brand does this well.  The carbohydrates are also a blend of glucose and fructose to deliver both sustained and rapid energy levels. I learnt a long time ago above the quick energy bursts from fructose, the sugar found commonly in fruit.
I will often add fructose to my water bottles for long rides.  The best recovery supplements will also contain protein that naturally contains BCAAs (Branched-Chain Amino Acids). Protein or BCAAs are the single most important ingredient for repairing tired muscles. Pure Brand contains whey protein and BCCAs for fast absorption and muscle repair. The fact that it has a whole 25 grams of protein per 100g serving which is fantastic as some manufacturers will skimp on their ingredients. All ingredients are labelled clearly and sourced fresh from premium suppliers of non-GM ingredients.
Industry Accreditation 4/5
When putting anything in your body you want to be sure it will do only good and not harm so you should look for long standing manufacturers or those with independent accreditation. Pure Brand Nutrition have conducted significant research in partnership with Elite Level Nutrition and Performance experts. Ingredients are batch tested to confirm compliance with WADA list of prohibited substances and ISO 9000 Certified.
Total Score 21.5/25
I'd happily recommend Pure Brand Nutrition post workout supplements to friends. They taste great, are affordable and super convenient with their, chuck in your bag, 'Shake-n- take' bottles. I've found over the last month that Pure Brand recovery drinks have supported my step-up in training intensity. While I can't claim my current strength, and endurance to be as a direct result of using Pure Brand Nutrition supplements, I can say I will continue to use them until my first ultra-marathon is in the bag.  One final thing, occasionally I'll blend Pure Brand Recovery with Spinach and honey. Try it !  Pure Brand Nutrition Post Workout Recovery Drink Product Review