For our blog this week we have A further review from the fabulous Mike who previously reviewed his Giant Talon bike review.  Check out what Mike to thinks of his road bike this week with an owner review of the Giant Defy.
Giant Defy Road Bike Specification
Make: Giant Defy
Type: Road bike
Gears (Shimano): 18
Price: £700
Frame: Medium
Tyres: 700 x 25
Buying the Giant Defy Road Bike
I bought this bike with a view to touring Europe, the bike shop I had had dealings with in the past recommended this bike as an alternative to a touring bike. This was my first Giant bike and my first drop bar bike in many years. It is a relatively light weight bike which handles the road nicely. For my particular use, 18 gears is plenty, in fact, I would probably manage happily with 9. It has suitable eyelets for a pannier rack but as it is a medium size frame, the panniers have to be set back as far as possible to avoid clipping them with the heel. As a bike it is a comfortable ride and a comfortable riding position (I am 5′ 9″).
Issues with the Giant Defy Road Bike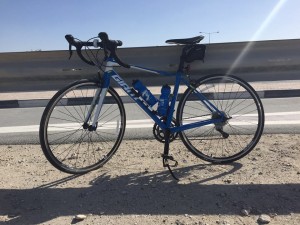 My biggest gripe with this bike is the poor quality of the tyres. During my maiden ride I picked up 3 punctures. I gave up after 72km. It seemed to be it really didn't like the Shropshire lanes, or main roads for that matter as I suffered yet another puncture on my way to get it serviced. I rode a further 1,500 km in Qatar after that and only picked up one puncture. but this was riding mainly on excellent roads or brand new bike lanes with little debris on them.
Summary of the Giant Defy Road Bike Review
The bike feels firm and well built, all other components have lasted and done well over the past 12 months, there's just a slight odd noise coming from the crank which no bike shop has managed to eradicate! –
For the money it isn't a bad bike, it feels well built and handles nicely, it is light and gear ratios feel good.
Pros: good value for money – nice looking bike – good after sales care – reasonably light
Cons: poor quality tyres, well worth investing in a decent set!
MIKE
About the author – Mike was incredibly helpful to provide our readers with two reviews of his bikes and help other cyclists.  Legend.  Huge thanks to Mike from all of us at Trivelo Bikes