This weeks blog is the latest bicycle review from our test squad of real athletes with trusted reviews. Pleased to be able to share with you the Cannondale Slice HiMod bike review from test associate Rich Brown.
Bike Manufacturer – Cannondale 
Bike Model – Slice HiMod (2008-9)
Overall Score – 8/10
Price when purchased – £?
Bike type – Time Trial / Triathlon
How long you have owned the bike – 5 years
Pros & Cons of the Cannondale Slice HiMod
Pros
It's fast! 
It hasn't cost me very much
Seems pretty durable 
Cons  
Now an old frame
"better" bikes are available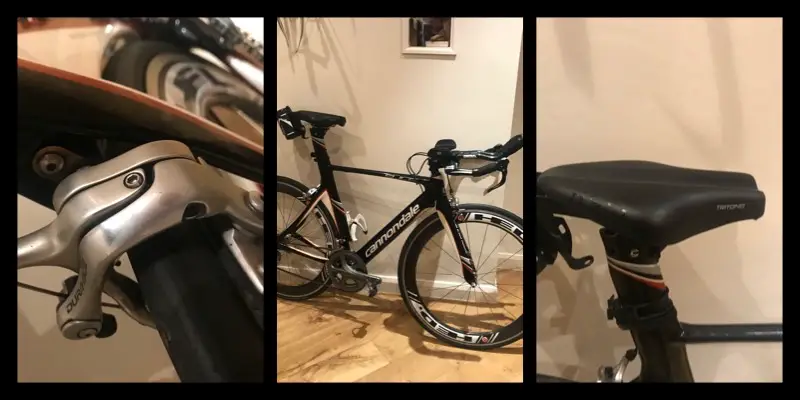 Introduction to the reviewer 
Like many people, I started my introduction to the triathlon world by taking part in one of the popular Castle Series events at Cholmondeley Castle in Cheshire. I was part of a relay team, and because I was an average cyclist (who had done no swimming for years and who was not run fit!). I was nominated to ride the 40km cycle leg.
Back then I didn't have a time trial bike, nor even a dedicated road bike. I completed the bike leg on my trusty old Kona Dr Dew hybrid. While I was nowhere near the front. I was also certainly not last, and I started to wonder if I could go faster. With the right kit, I reasoned, the answer was "definitely!" Shortly after that introduction to triathlon, I acquired my Cannondale Slice, and I started to see if I was right. 
Introduction to the Cannondale Slice HiMod  
Cannondale are a manufacturer rightly famous for producing high end aluminium (or as the 'Merican's wrongly spell it, 'aluminum') frames. The company launched its first full carbon fibre ('fiber'!) frame (the Synapse) in 2005. The Cannondale Slice HiMod was one of their earliest forays into offering a full fibre time trial bike. 
For many triathletes, the Slice HiMod will forever be associated with the exploits of 4x Ironman World Champion Chrissie Wellington. Wellington raced on a Slice after signing with Cannondale in 2009 so it's no surprise it's a very fast bike. The real surprise is that it is also nicely balanced and for a stiff, carbon fibre bike, offers a smooth and comfortable ride. 
Cannondale Slice HiMod Frame  
The Slice HiMod 1 is a full carbon fibre frameset, featuring Cannondale's HiMod carbon layup. This allows the top tube to be almost impossibly thin. Cannondale also incorporated their "SAVE" technology to provide vibration damping at key points within the frame.
Looking at the frame it's immediately obvious that it is built around a specially profiled aero section. The "Speed Shadow" seat tube which hugs the wheel and smooths the airflow. At the bottom of the seat tube is Cannondale's preferred BB30 bottom bracket. This is oversized to provide stiffness. Specially shaped (rectangular-triangular-circular) SAVE chainstays lead to carbon dropouts at the rear from which hangs a replaceable mech hanger. The seatstays are designed to cheat the wind and flow neatly up to join the rest of the frame. Cables run internally, while brakes and seat tube bottles are conventionally mounted.  The twin-position bladed seatpost is full-carbon too.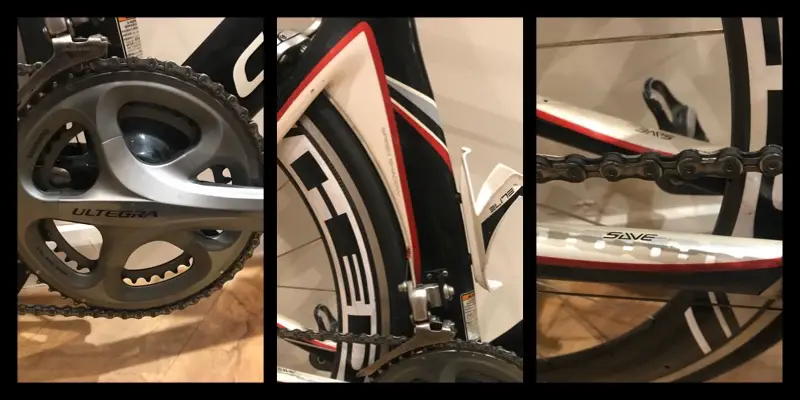 As you'd expect with a TT / Triathlon bike, the position is aggressive. This is particularly noticeable when you roll forward onto the tri-bars. And when you do roll forward and put the power down on a good open road. The Slice will help you go very fast indeed. 
Bike Component Highlights
When I got my Slice, I didn't have any budget to do anything with it. Up until 2018, I did practically nothing to it except to maintain it. At that point, the bike was sporting a handsome Franken-mix of components from various manufacturers. The chainset was Cannondale's proprietary Hollowgram running through a BB30 bottom bracket. The derailleur was a 10 speed Dura-Ace unit with a 10 speed Ultegra cassette, with Dura-Ace calipers front and rear. Shifters were some old Shimano units, and brake levers were a pair of carbon SRAM units. Wheels were HED Jets. The saddle and bars were rubbish, but the basics were all covered.  
Instead of upgrading the existing components. I took the position that the best way to get faster was to focus on developing a stronger 'engine'. Soon after I acquired it, I took the bike to the excellent folk at Bridgetown Bikes in Cannock for a bike fit. Under the watchful eye of Mike Taylor, my position was dialed in and a couple of minor component changes (shorter stem) were implemented. 
Other than that, the bike remained as it was when I got it until late 2018. 
Riding the Cannondale Slice HiMod
When I started riding the bike, it was obvious that it could go very fast if the rider was up to it. 
After moving to Cheshire in late 2015, I found myself living within touching distance of several popular 10 mile TT courses. There are also a couple of local 25 mile courses and a couple of 50 mile courses. That was it for me. I set myself a goal of setting respectable times on my local "J" courses. I started to work hard on the turbo and I started to see results.
At the end of the last full TT season I rode (2018), I got myself down to a 23.05 on the 'sporting' J2/1 10 course in the midweek league. I recorded a short 61 minute ride on a wet J2/9 25 mile course even after dislodging my bars from hitting a pothole. I also left my 50 TT time hovering at 2:06:36. On a properly fast course such as the Levens L1015 or the V718/1 near Hull. I think the bike even though it's now old would help me go faster. 
Upgrades made to the bike
I only started to upgrade the bike after suffering a spectacular crash (into a parked car) at 2018's Outlaw (don't ask!). The crash made me replace some damaged parts including the tri-bars and cockpit area. And as I started to strip things down I thought it would be a good opportunity to replace most of the parts hanging off the frame. eBay became my friend!
Perhaps the most expensive upgrade was to swap out the standard BB30 bottom bracket to a ceramic C-Bear unit. This reduced drag in the drive train by a massive amount making it worth every penny. It also gave a healthy dose of free speed. And it meant that I could swap out the standard Cannondale Hollowgram crank to run a Shimano crankset. This could more easily take a crank based powermeter if I choose. I kept existing components where it was sensible to do so. The real test of the build came this summer in the Outlaw X 70.3, where I was comfortable holding the aero position for the 56 miles, completing it in 2:39:16. 
Full details of the current build are in the table below. 
| | |
| --- | --- |
| Frame | Cannondale Slice HiMod 1 |
| Headset |   |
| Shifters | Shimano Dura Ace TT |
| Stem |   |
| Handle Bars | 3T Vola Pro Alu |
| Seatpost | Cannondale Slice |
| Wheelset | HED Jet 6 |
| Saddle | Fizik Tritone 5.5 Saddle with Bottle & CO2 Mount |
| Bottom Bracket | Cannondale BB30 with C-Bear BB30 to 24mm Ceramic Bottom Bracket conversion |
| Brakes | Shimano Dura Ace Calipers / TRP RL979 |
| Cassette | Ultegra 10spd 11-23 |
| Chain | Ultegra |
| Cranks | Shimano Ultegra 6700 2 x 10 spd Chainset (53+39t) 170mm Hollotech II Cranks |
| Pedals | Shimano Ultegra |
| Fork | Cannondale |
| Front Derailleur | Shimano Dura Ace 10 spd |
| Rear Derailleur | Shimano Dura Ace 10 spd |
| Front Tyre | Continental Grand Prix TT |
| Rear Tyre | Continental Grand Prix TT |
Summary of the Cannondale Slice HiMod Bike Review
My experience of owning and riding this bike proves that you do not need to spend a fortune in order to go fast or compete in triathlon / time trials.

Richard – Trivelo Test Associate
Sure, the very latest kit will help, but you really don't need to go all out. Instead, you can go faster simply by investing your hard earned cash wisely. Buy the best frame that you can afford and then source "new old stock" components from e-Bay. There are so many good deals around that you can often get really good second hand components for a fraction of what they would cost ordinarily. For example, I got my Shimano chainset for less than £50 and the Tritone saddle cost £25 including the bottle/CO2 mount. A true bargain. 
So choose where to spend your cash. Spend your money on kit that gets you in a good position first. A bike fit that gets you comfortable on the bike will be far more beneficial than buying a set of deep dish wheels (although they definitely help). While a good fitting skinsuit and an aero helmet will save you even more watts.
Second hand bike components
Buying second hand also means that when you do crash you don't mind quite as much. I've now crashed this bike heavily twice, once in Paguera and once at 2018's Outlaw. After that you are a little less concerned about it. Both times I took the brunt of the impact and the bike survived relatively unscathed. After that you are a little less concerned about it!
After you have got your TT bike, you must spend time getting comfortable in the aero position. You need to train your body to hold your position for long periods of time while maintaining your power output, and this takes time. Invest the time in working on yourself though, and you will reap the benefits. Don't get me wrong, I would love to own a brand new TT bike (and the recent Black Friday frame deals were very tempting indeed). Realistically though, I'm only doing this for a bit of fun, and the current set up that I have allows me to go plenty fast. Sure, I'd like to go faster, but the challenge with it being this way is that the main variable is me, not the bike. By putting the work in, I'll see the results. 
If you like Richard's Cannondale Slice HiMod Bike Review you should check out his other review of the Kinesis Racelight 4S.
If you looking for other options and looking to build up your own TT bike consider the following options:
Argon 18 E-117 TT/Triathlon frameset 2020 – £1399