Trivelo independently review everything we recommend. When you buy through our links, we may earn a commission. Learn more >
Our latest article features the CycPlus M1 Review. Offering incredible value for a fully featured GPS device. Is it as good as it appears to be from the details? Read on to find out more.
---
Summary of the CycPlus M1 Review
Overall, for a budget priced GPS computer I was pleasantly surprised with the Cycplus M1. The ease of set up, reliable GPS data, Bluetooth and ANT+ connectivity makes it good value for money. From doing the CycPlus M1 review I would recommend this bike computer for the more amateur cyclist/triathlete that would like their rides and stats recorded and uploaded to Strava and Training Peaks. However, for the more advanced riders that need a bike computer for complex outdoor training sessions the limited flexibility of the features may mean it is not as advanced as you may need. 
Pros and Cons of the CycPlus M1
Pros:
Smart looking unit with a large display, 
Reliable GPS computer and data recording, 
Easy to upload to Strava and training peaks via Bluetooth, 
ANT+ connectivity for HR monitors, cadence and power meters, 
Easy and simple set up,
Good battery life (I only charged once every few weeks!)
Cons:
Data fields are set in position and therefore you can't have everything you want on one page,
The power data is fixed at 3-second which without context like lap average power or normalised power has limited use and if you're training to power this isn't particularly useful. 
There is no route planning or mapping, which you wouldn't expect from a bike computer at this price but it is a useful feature. 
---
First Impressions of the Cycplus M1 Review
The Cycplus M1 bike computer is a budget friendly GPS unit. At first impressions I thought the box was very smart. The size of the computer is fairly large and it has a 2.9" display screen which is larger than my Garmin 820 screen. However, it still did not feel chunky and the unit looked like a premium bike computer. There are three buttons along the bottom edge of the unit, which I found out later have a long and short press function.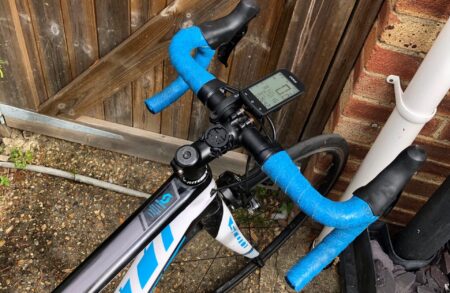 What Comes In The Box with The Cycplus M1
In the box was also an instruction manual, micro USB charging cable and a quarter turn stem mount and elastic to attach it to. I then found out that the computer also fitted on my Garmin mount making it much easier to test! I also received a cadence sensor with the unit that was easy to attach to my crank.  
If you are looking for a new triathlon watch read our review of the Garmin Forerunner 965 v 955 v 945 watches. We provide insight on the key differences and if the latest model is worth the money. Plus some key information on what the 955 has that the 965 doesn't!
Setting Up the Cycplus M1 Bike Computer
I am not the most "high tech" person so for me I would like something that's as easy as possible to set up and connect to Strava and Training Peaks. I found the Cycplus M1 to be a lot easier than I first thought. First you download the App  XOSS onto your phone, this was easy to do on an iphone. Within minutes I had attached the Cycplus M1 via bluetooth and connected the app to my Training Peaks and Strava accounts. The connection was excellent and after each ride it was easy to upload my rides, sometimes uploading the ride takes a little longer than the Garmin device but this is still minimal time in my opinion. The rides all synced straight to Strava and Training Peaks no problem.
The app also provides a ride analysis but to be honest with training peaks and Strava I didn't really look at this too much. It does provide stats and graphs on Power Zones, cadence, speed, heart rate if stats are something you enjoy analysing!
The device has ANT+ which is great to sync your heart rate monitor and also my Garmin power pedals. You can do this fairly easily by using the devices C menu and connecting your sensors.   I did refer to the manual quite a few times to set it all up, it probably didn't take me more than 10 minutes.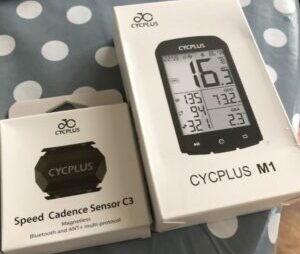 Looking for something different? Ever considered a belt drive bicycle? If not then you must read our guide to the best belt drive bicycles with latest prices and all models compared. I own 2 belt drive bikes now and a total convert. Add that next n+1 bike to your collection.
Personalising the User Interface
I did find that you couldn't change the layouts of the screen like you would in Garmin, which could be a problem if you would like specific fields on each screen. There are different screens that show different fields but you just can't personalise them. I also had to connect my power meter each ride as when I didn't for some reason it kept picking up my partners power on our rides!
Testing the CycPlus M1 Bike Computer
The units large display was great for viewing the numbers and it was well lit up. Additionally, it automatically had auto pause so you didn't need to worry about turning that on or pausing your computer. I rode with my garmin and this unit mounted a few times and as it should be the data was very similar in regards to distance, average speed, watts and elevation. Which for very differently priced devices is a good outcome for the Cycplus M1. There is also a lap button which is useful for workouts. Unfortunately, you cannot change your power data screen, this is set on 3 second power which isn't that useful if you are doing particular sessions where average lap power is needed. 
---
For those looking for a commuter bike to help with the day to day check the best Brompton alternative. They may be the most famous folding bike but there are some other really interesting bikes worth considering. Some much more stylish as well.
Alternatives to the CycPlus M1 bike computer
Alternatives to the CycPlus M1 bike computer include the cheaper Cycplus M2. Read our review of the CycPlus M2 bike computer so you can compare with the CycPlus M1 before making that decision. The CycPlus M2 is priced at £42.99 so cheaper but has a very different interface. Check our review for more information.
---
Best Price for the CycPlus M1 Bike Computer
Buy Cycplus M1 for £54.99 Direct from the Cycplus Amazon Store
---
Video Review of the Cycplus M1 Bike Computer
---
About the Author
I'm Heather and I have been participating in triathlons, duathlons and crit races at a high level for about 5 years now. I have competed in my an Ironman and have plans to compete in another next year. I am an active member and the secretary of Berkhamsted cycling club. Training wise I do 6 days a week with a larger proportion of this training on the bike. For the last 4 weeks I have been training using the Cycplus M1 Bike Computer. This training has included hilly rides, long rides and interval sessions. 
---
Follow us on Social Media
---