Triathletes lust over beautiful TT bikes and Shayne brings you his views on another gorgeous TT bike. Find out what he has to say with this Giant Trinity Advanced Pro 0 bike review following 2 years of ownership for a real review of what it is like to live with this bike.
Bike Manufacturer – Giant
Bike Model – Trinity Advanced Pro 0
Overall Score – 8/10
Price when purchased – £4500
Bike type – Time Trial
How long you have owned the bike – 2 years
Pros & Cons of the Giant Trinity Advanced Pro 0 bike
Pros
Frame
Adjustability
Speed
Cons
Cockpit options
Integrations – too small
Wheel set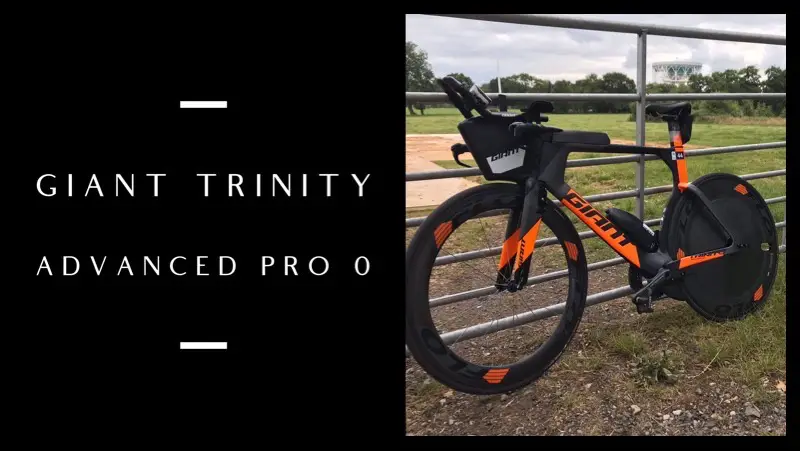 Introduction to the reviewer
So I'm Shayne, typical age grouper really. I first got into triathlon as a dare in 2011, after a friend of mine who I played hockey with lost lots of weight and got really fit over pre-season. I inquired how he'd made such a transformation and his reply was that he'd entered the Virgin London Triathlon. Having been a decent swimmer as a kid, I naturally asked what he thought he could do the swim in, he scoffed at my reply and the bet was on! The rest is history. I was 16.5 stone, bought a £300 bike (Claud Butler Roubaix!) and was hooked on the training.
Having done my first triathlon in Pendle, with competitors dropping out with hypothermia, I was hooked. Not only that, I scalped a few folk wearing GB suits in the swim and on the bike. So, with bit of confidence in my belt I set off on a journey to represent GB in my age group, and something I aspire to do again. Though now I balance Dad, husband and work duties so have to make the most of a spare training moment!
Introduction to the Giant Trinity Advanced Pro 0
The Giant Trinity is the Advanced Pro 0 is the top end Shimano time trial bike in Giants range. It is the version with Shimano Di2 and their stiffest frame. I chose this over a multitude of options at that end of the market. The Cervelo P5. Canyon Speedmax. Specialised Shiv and Trek Speed Concept were all in the running.
In the end there were a few things that persuaded me to go with the Giant. Firstly, the fact i had a dealer around the corner from my house. Paying that much for a bike, I'd want to know that if I had any issue at all, then it would sorted out with a minimum of fuss. Having bought a bike from an online dealer previously, I found the experience of an issue really hard to resolve. So, it was important for me (especially being a mechanical dunce) that the service was there to help me out.

While not the most adjustable, having had a bike fit, I and the dealer worked out that it could hold my position. The cockpit of the Cervelo however, was far too narrow for my swimmer shoulders. Canyon, is an amazing bike and part of me still wishes I'd held out for this. However, the lead time to actually receive one from the ordering worried me. Also the service was a risk I wasn't willing to take. The Trek felt expensive for the money pound for pound compared with the Giant. Prior to its revamp, the tri version of the Specialized Shiv was simply a no.
Bike Buying Tip #1 – If you're going to invest £000's in a bike, get a proper and thorough bike fit before you do. It will save you from having a great bike that is simply too uncomfortable to ride properly. Or worse still one that you can't hold an aerodynamic position in for the period you need to.
Giant Trinity Advanced Pro 0 Frame
The frame is all carbon, with integrated brakes. It's the top of the range frame and the stiffest in the Giant Trinity range. It. Is. Fast. It has the aggressive geometry you'd expect from a TT bike. The seat is right over the bottom bracket. Designed to help you be in the best position to get all your power out and in the most aero position possible. That being said, the position of the seat post does mean that there is limited adjustment. As I'll mention a few times in this review. If you're going to invest £000's in a new bike, spend a few £00 on a decent bike fit.
Bike Component Highlights
I chose the Shimano Di2 groupset. Which I have to say has been faultless. Easy to configure with new chainrings and cassettes. Faultless shifting. It literally has not skipped a beat. This has a few advantages when time trialling, moving smoothly through gears helps to maintain that consistent power output. Also having the shifters on the base bar and ski bar ends really helps maintain a great position. Not to mention there is minimum need for servicing. There's no cabling.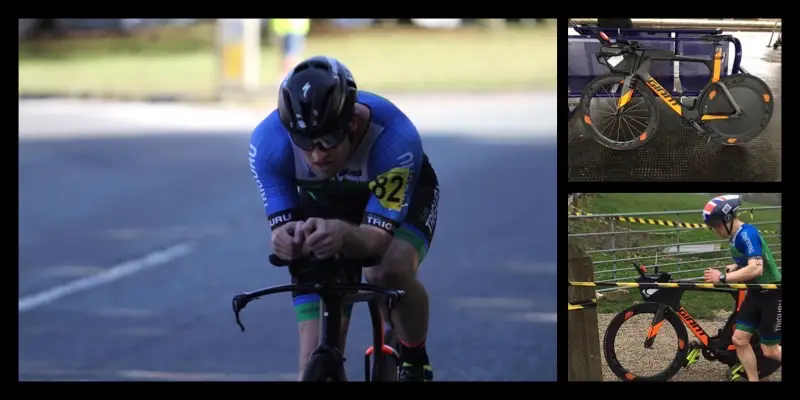 Charging is easy, we opted to store the junction box out of the way within the integrated bento box on the top tube. HOWEVER, they are a massive luxury. Looking back, I should have had the manual shifting and invested more in the cockpit. Making that bespoke, with some drag2zero or aerocoach accessories.
Bike Buying Tip # 2 – Don't sacrifice aerodynamics for the top end groupset. Focus on that first and upgrade your groupset later, particularly for time trial bikes
Riding the Giant Trinity Advanced Pro 0
This bike is fast. My fit means that its comfortable and I'll think of nothing to spending 3 hours in the aero position. I'm trying to now make sure I can tweak this to get more aero and save some watts! I have ridden this bike to a 58 minute 25 TT. Ridden it from Manchester to London in 12 hours riding time (14 hours total). Not bad for over 200 miles.
Upgrades made to the bike
I have upgraded the skis to better fit my position but haven't added too much else to it yet. However, since buying the bike, my knowledge of Time trialling in general has increased. And in hindsight there are a few adjustments I would have made at purchase. In the future I'll be getting a larger, carbon chainring (currently 52 tooth) and probably opting for a single. I'll also be swapping out the cockpit and armrests. I've ridden on this bike for about 4 hours per week every week since I bought it. The cockpit is a bit worn and not to mention sweaty!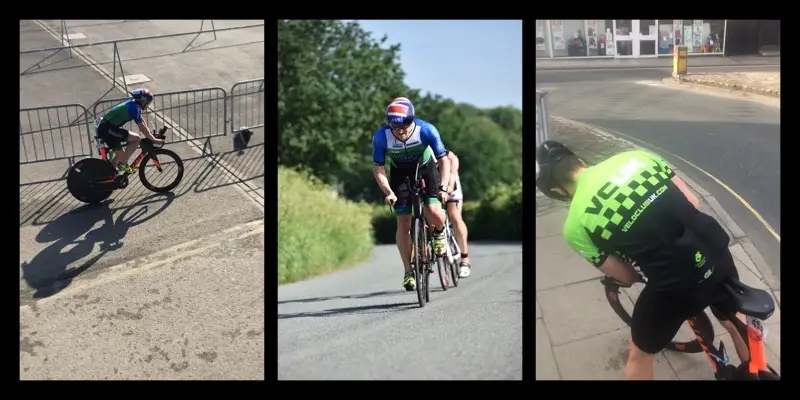 The wheels that come with it are rudimentary at best. I quickly upgraded to a Flo 80mm front wheel and Flo disc wheel.
Bike Buying Tip #3 – Its worth checking the exchange rate and the import tax you pay on the wheels before buying. If you don't have a favourable exchange rate then there are equally good wheels out there that may come in cheaper.
Summary of the Giant Trinity Advanced Pro bike review
This is a great bike. Built for speed and enough comfort to hold an aggressive position for long periods. Its the favoured bike of Matt Bottrill. Multiple national time trial champion at multiple distances (he even scalped a certain Sir Bradley Wiggins on a Giant trinity). I have loved having the bike. I'm lucky to have come into some money to be able to afford it. It's easy to maintain, has minimum of fuss and has given me some riding experiences I'll never forget.
Buy the Giant Trinity Advanced Pro from Rutland Cycles for £2999 – Limited sizes at time of writing (October 2020)
Alternatives to the Giant Trinity:
Vitus Auro CRS TT bike for £2599 from Wiggle. 2020 model with full Shimano Ultegra groupset. Contact us for the latest discounts with Wiggle.
Buy the Fuji Norcom Straight 2.3 for £2699 from Chain Reaction Cycles. Contact us for the latest discount codes with Chain Reaction Cycles.
Ceepo Venom R7000 105 TT Bike for £2849.99 from Wiggle. Contact us for the latest discount codes with Wiggle.
If you have loved the Giant Trinity Advanced Pro 0 bike review but looking for other options check out our other bike reviews.