TYR Wetsuit Cat 1 Wetsuit Expert Review from Trivelo test associate Jason Walkley. Jason is a sub 10 hour Ironman clocking in a personal best of 9hours 16mins so well placed to provide an expert review of the TYR wetsuit.
Introduction to Jason

In my 14th Year as an Age-Group Triathlete having transitioned from using the beginner's equipment through to the top-end kit that different brands offer. In terms of wetsuits I have used several across the years, Blue Seventy, HUUB, Aquasphere, ZONE3, EROX, FOOR and I have now added TYR to that list; this review will provide you with my opinion on how the Hurricane Cat 1 stacks up against other brands available. Is this suit only for beginners? Or would it also suit a fish? Sinky legs? Read on to see if this suit is for you!
First Impressions of the Wetsuit
Upon opening the box, the suit comes wrapped up in the usual tissue, in a plastic bag inside a TYR branded dry bag. Sitting on the top of all this was an A4 Yellow envelope with instructions to read these before use; Inside this was a pair of cotton gloves and booties, these are used to assist putting the suit on to ensure the neoprene is not damaged by sharp nails. For those who have used wetsuits before will know how easy it is to tear the top layer of neoprene, wearing gloves is one way to minimise this, I use a plastic carrier bag on hands and feet.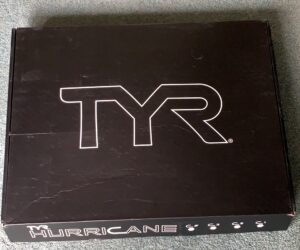 The storage bag is good, and ultimately protects the suit from damage.
Specifications of the wetsuit
Thickness
I found the suit to feel quite thick, this helped keep me warm in a cold River Severn on my test swims, but it restricts the arms a little, however, I have found the same in other suits at this price point. I couldn't maintain the stroke rate that I can in my normal wetsuit (zone 3 vanquish, a top-end suit with 0.8mm arm neoprene). This thicker neoprene helps with the durability, its resistance to damage means with proper care this suit will last through several seasons.
5mm Legs, Chest and Abdomen.
2mm Neck, Arms and Shoulders.
1.5mm Under Arm.
3mm Back.

Buoyancy
Extra buoyancy is not something I need as I am a level swimmer, i.e. my legs do not sink. I found the extra buoyancy too much for me as it placed my legs almost out of the water, however, is perfect for those who have the 'sinky' legs.
Technology in the TYR wetsuit
Motion Zones: Various panels made to stretch in the direction of movement.
SPF 50+: Superb protection from the UV radiation.
Quick-release Cuffs: Designed to help removal of the arms and legs.
Wetsuit Sizing and Initial Fit
Super difficult to fit, making me sweat profusely, clearly too small for me, this restricted me when fitting. I received a Small/Medium according to the sizing chart, I am 5'9″ and 156lbs (71kg), a medium would suit better after trying this suit on.
When removing the suit, I had the same issues, the quick release cuffs didn't help at all and I struggled to remove it, especially over my watch; despite staying in the water to aid removal.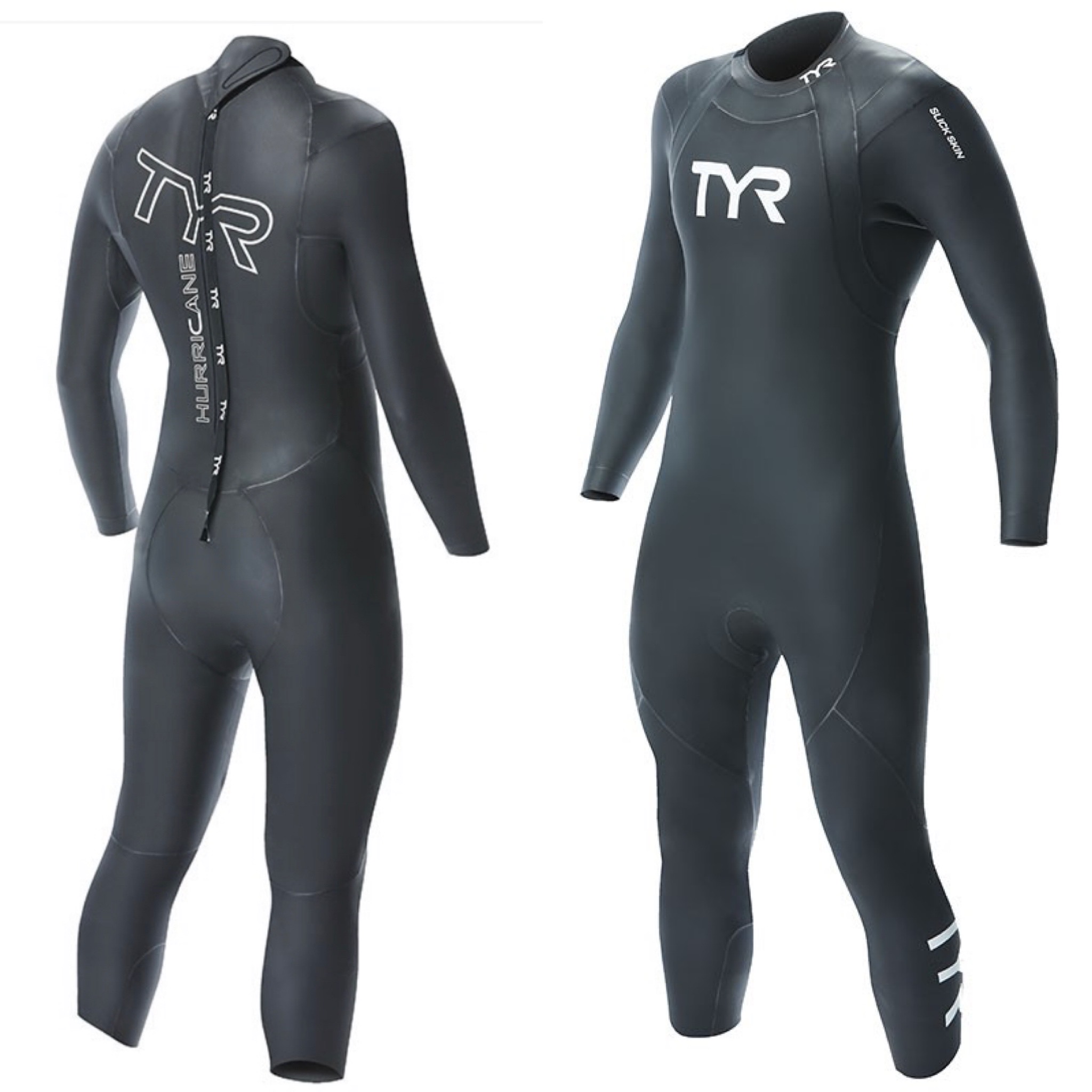 This being one of the reasons I struggled with maintaining my normal stroke rate of around 65-68spm, it loosened up a little over a few swims but not by much and not enough for me to say this was my size. Might be worth noting when placing an order if you are close to the upper limit of one size.
Zip and Neck Comfort
This is where cheap wetsuits usually have issues, however, (despite being too tight) there were no issues with rubbing on any of my swims. Providing a tight seal, it didn't rub.
The zipper remained clear of any neoprene when moving up or down, a friend helped me zip up but that happens no matter what suit you use so it's no problem.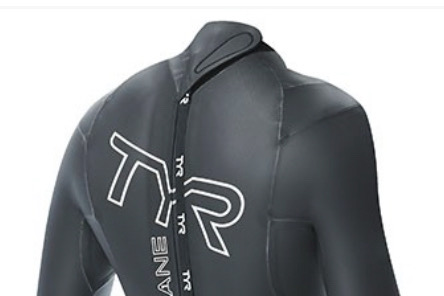 It also sat well on the neck and the flap covered it well. The Velcro tab fastened across easily. The cord did not have any method to fasten out of the way, which I have found to be on every other suit I have tried on before.
Swimming in the TYR Hurricane Cat 1
Flexibility: I found it restrictive to swim, however, that was due to the incorrect sizing.
Reach: My reach was shorter than normal and made my arms tire very quickly, I would say this due to the size again.
Pull: The pull was fast, once in the reach position the suit helped pull quickly and finish the stroke. For me, if I could maintain a long reach forwards it helped me carry out both pull and finish phases.
Sinky Legs: No chance of sinky legs in this suit! As I mentioned earlier, extra buoyancy is not required and when kicking my feet were leaving the water. This suit would suit those with low legs and place them in the correct horizontal position.
Fatigue: Experiencing fatigue during a long swim (3K river swim), to the point my stroke-rate was below 50spm, therefore, struggling to do my usual long stroke. As I have said numerous times before, I think the incorrect size contributed to this greatly. A 400m sprint would be my limit in this suit before pace would start diminishing (sizing again I will say). A proper fit would enable me to hold a solid pace over considerable distance.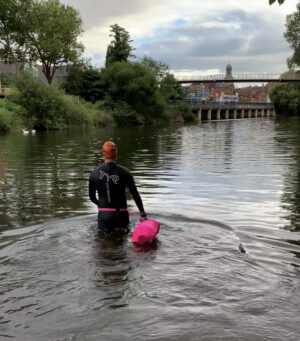 Summary of TYR Hurricane Cat 1 Wetsuit Review
What type of swimmer does it suit? I believe this wetsuit would suit a swimmer who suffers from the cold, has buoyancy problems or for those on a low budget. I also think this could help an intermediate level swimmer as an excellent training aid, a bit like riding a heavier bike or single speed and racing on a super light bike, or running in heavy shoes, and switching to the racing flats on race day. This suit could offer this kind of swimmer something to make them feel super-fast in a thinner top-end suit.
Any potential user would need to be mindful of the sizing and it would be worth trying on before buying. I think this suit sits in the correct price range and level of swimmer.
Competitors would be the Zone3 Advance, Orca S7 or Blue Seventy Fusion.
Recommendations from review
Overall, a quality entry-level suit for someone new to the sport; being incredibly robust it should last a few seasons before replacing; making this suit great value for money.
Thanks to TYR UK for allowing me to test this suit, I hold no affiliation with the brand, they provided me with the suit for an honest unbiased review.
Also, thank you to Trivelo for the opportunities to test and review kit.
TYR Hurricane Cat 1 Wetsuit Video Review
See video review from Jason on the TYR Hurrican 001 wetsuit
Buy the TYR Hurricane Cat 1 wetsuit direct from TYR for £189
Read our review of the TYR Hurricane Cat 5 wetsuit for more insight into the performance gains from TYR.
Read our round-up of 7 of the best triathlon wetsuits for more options.
Testing Review Disclaimer
I received this wetsuit from the team at Trivelo to test and provide a personal review. No payment was received, and all opinions are my own.