This week we have a first review from test associate Heather who has been spending time on the Limar AirSpeed bike helmet review. Read how she gets on with this high end innovative helmet.
Introduction to Heather
I'm Heather Taylor and I have been participating in triathlons and duathlons at a high level for about 4 years now. Last year I competed in my first Ironman and have plans to compete in another next year. I am an active member and the secretary of Berkhamsted cycling club. I train 6 or 7 days a week with a larger proportion of this training on the bike. For the last 4 weeks I have been training in the Limar Air Speed helmet. This training has included hilly rides, long flat rides and interval sessions.
The Limar AirSpeed Bike Helmet Design
The Limar Air Speed helmet was developed and designed with Team Astana and a lot of time was spent developing its aero properties. Testing revealed that the Limar Air Speed Road helmet is as aerodynamic as a full-fledged time trial helmet. However, unlike these helmets it doesn't compromise on ventilation. It is designed for the road to give advantage while racing. It comes in two sizes Medium 52-58 cm and Large 57-61 cm. This could be a problem for those on the smaller size.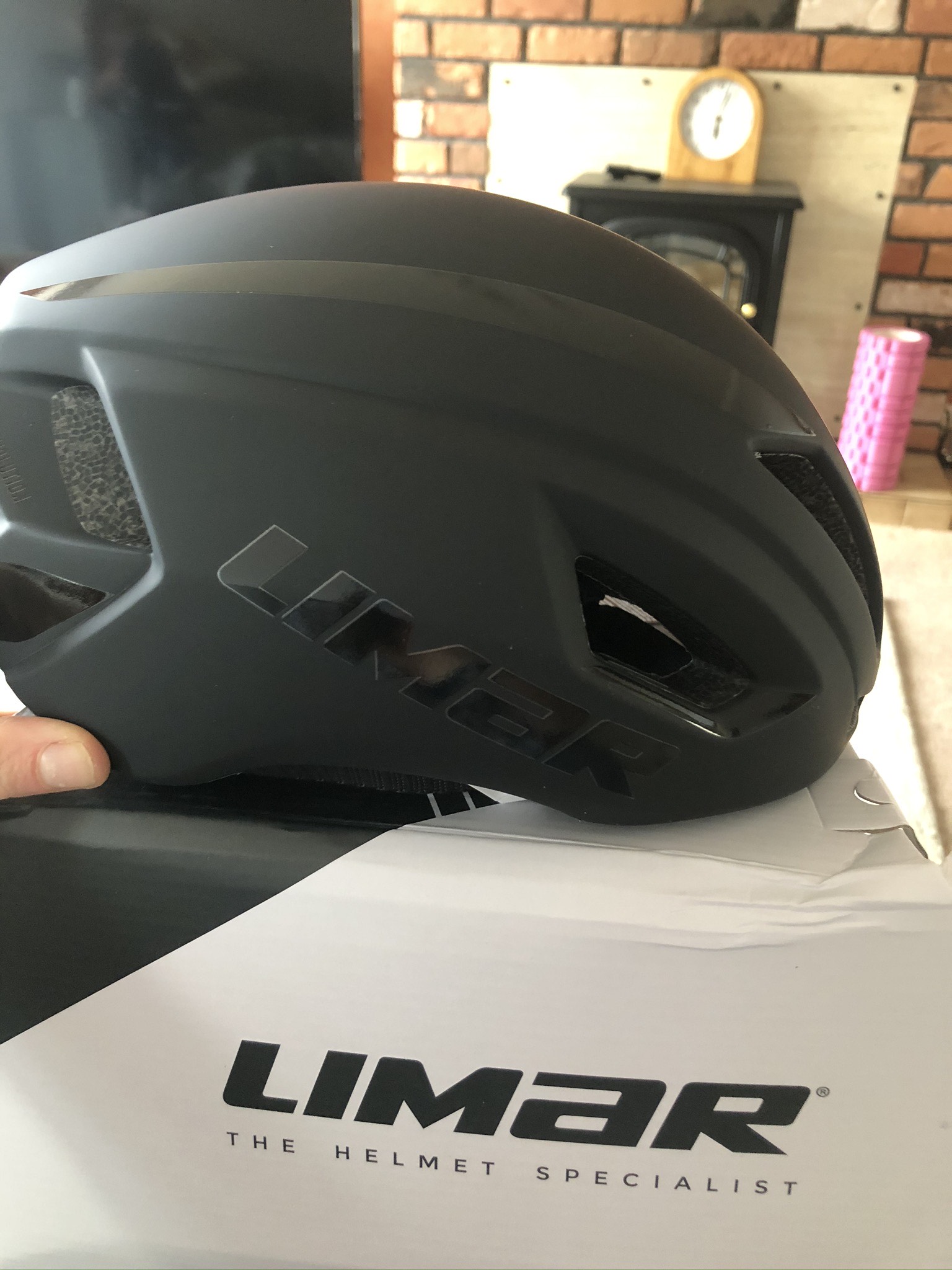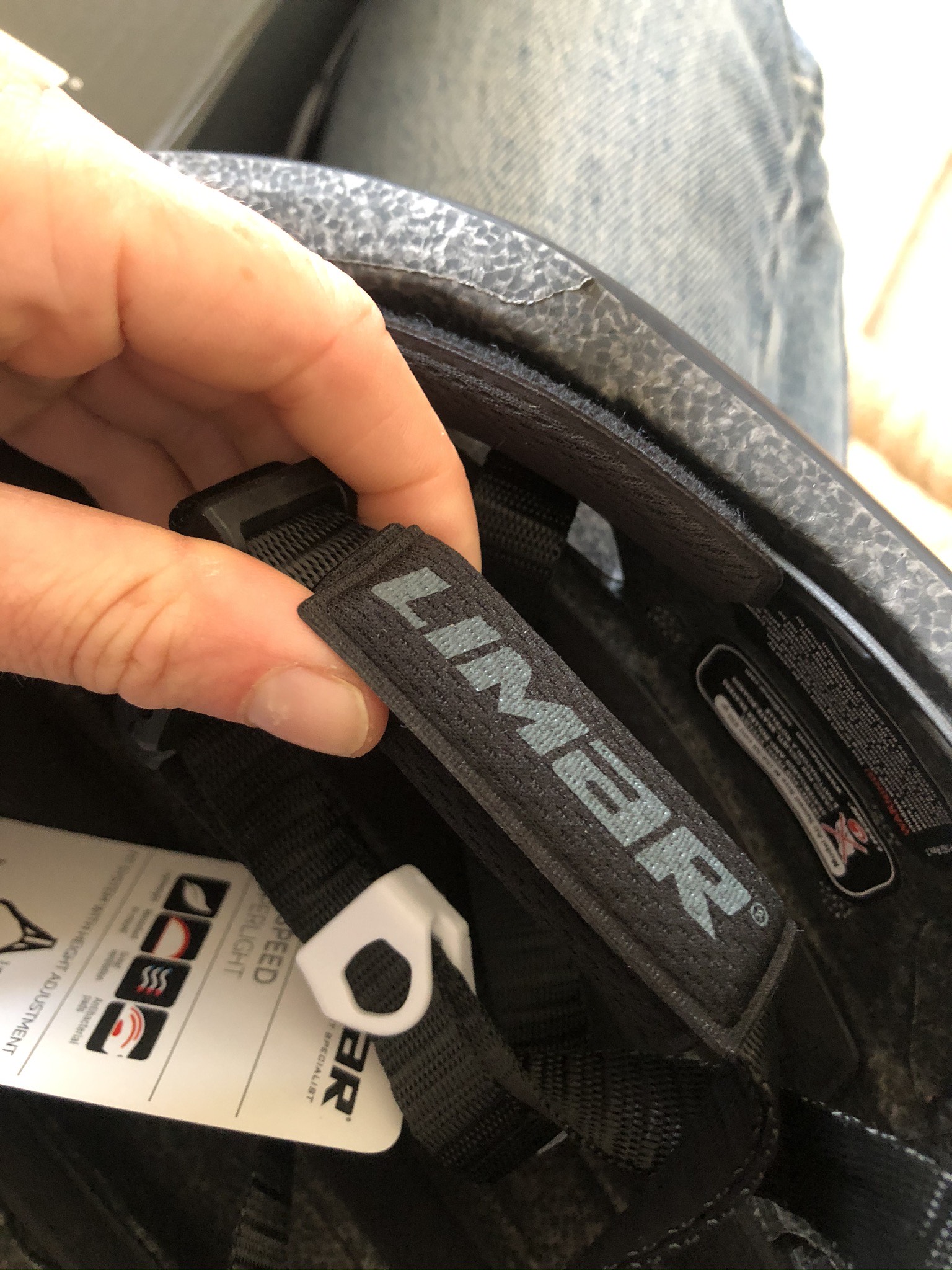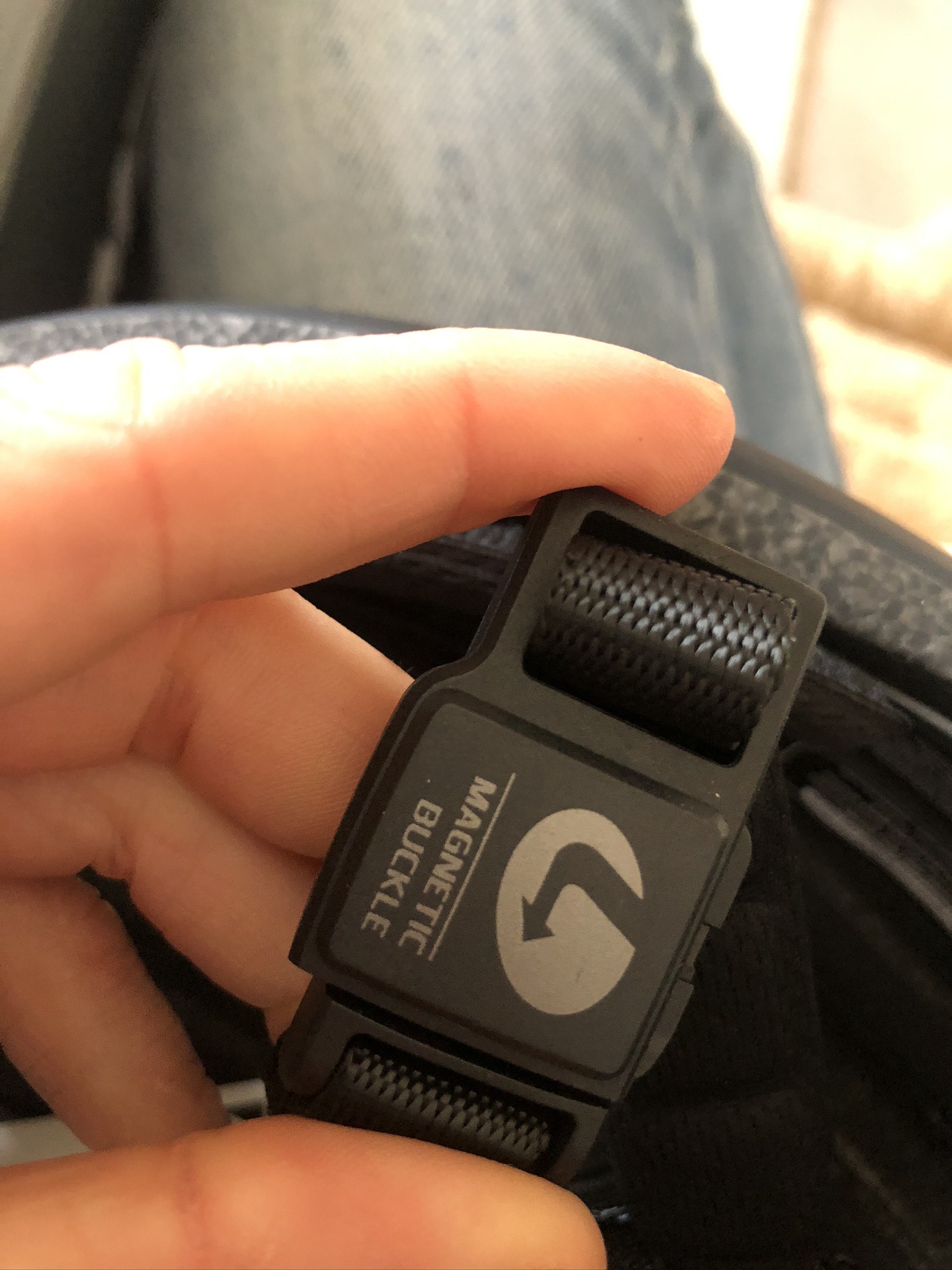 Limar AirSpeed Bike Helmet Specifications
Construction: In-Mold polycarbonate shell with EPS liner
AIR FIT SYSTEM – light and compact with both vertical and horizontal adjustment
Ventilation: 12 air vents and 3 longitudinal channeling
Padding: Ergonomic anti-bacterial replaceable pads
Straps: Buckle Closure (Magnetic)
One thing it doesn't have is MIPS (mutli directional impact protection system). This means it may not be as safe as other helmets, which is something to consider.
First Impressions of the Limar AirSpeed Helmet
The helmet arrived in a smart Limar Box. It came with a 2 year guarantee and a life time crash replacement. Which is a good feature to have when you're paying the price for a high end helmet. The design of the helmet is classy and slick, with a slim narrow build. There is a good amount of padding on the chin strap and the magnetic buckle looks smart. It felt considerably lighter than my other helmets. Placing it on the scales it comes in with a weight of 250g for the medium size.
Fit of the helmet
The helmet was fairly easy to fit with a moveable back adjustment and side straps. The dial is easily turned to adjust the fit. The only downfall for women is the hole in the back is smaller than other helmets. This made it a struggle to fit my ponytail. It therefore goes below which is less preferable. The magnetic clip took a few practices to remember which way to slide the buckle but once you get used it its fairly swift.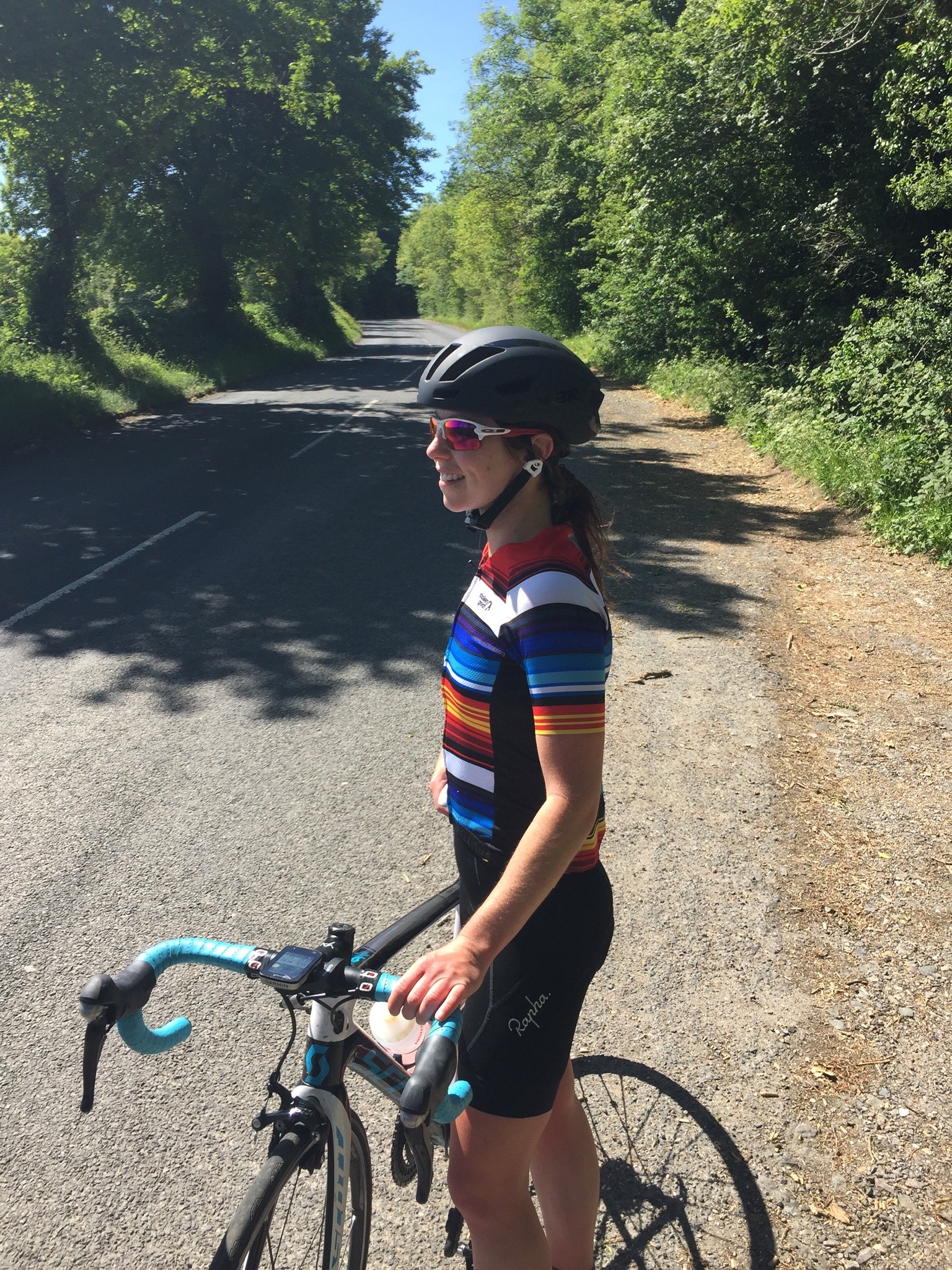 Comfort of the Limar AirSpeed
Whilst trialling the helmet the UK had a bit of a heatwave so the ventilation system was put to the test with some warm long and hilly rides in the Chilterns. The ventilation felt optimal. I didn't find myself over heating which can happen with a full aero helmet. You can really feel the breeze through your hair on the downhills. The air speed has 12 vents and 3 longitudinal air flow channels. The helmet has felt comfortable on all my rides. With it been so light you hardly notice your wearing it most of the time.
One additional benefit is the antibacterial pads. These are easily removed as there are attached via Velcro. You can easily remove them and pop them in the wash to keep it fresh and clean, which after some long sweaty rides is a definite pro.
Speed testing the Limar AirSpeed
Unfortunately there was no wind tunnel to test this thoroughly but from a psychological perspective I felt faster. This could be partially due to the fact you look cooler! When comparing it to my full time trial helmet it surprisingly has a similar feel, you feel more aero. Another benefit that this aero helmet has is you don't feel any disruption from cross winds.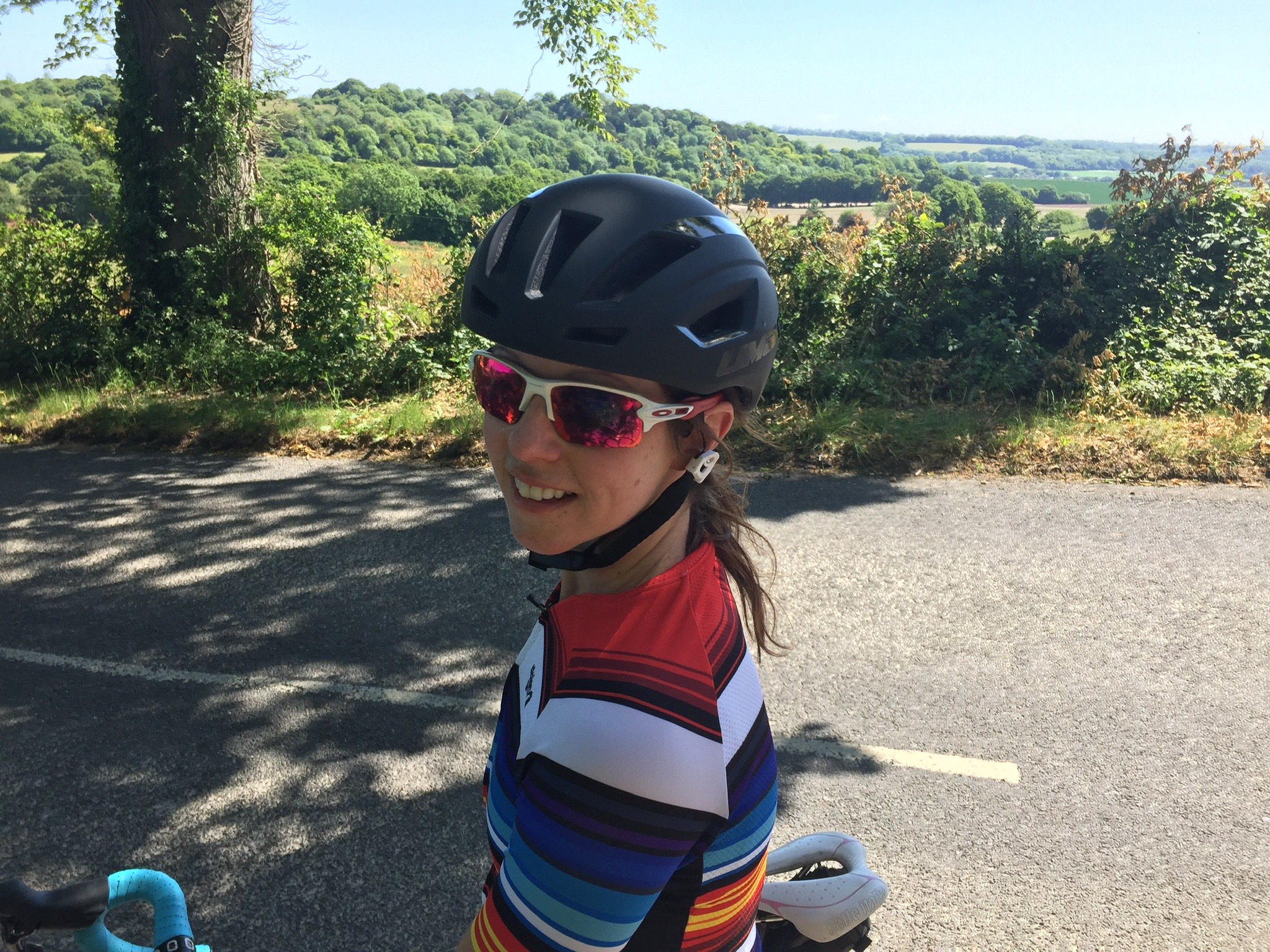 With regards to transition speed in triathlons the magnetic clip would be beneficial. In the UK you come out of the swim with freezing cold hands which can make it tricky to fasten your helmet. This is where after practicing the magnetic clip it would really help send you on your way. I have tested it by putting it on quickly a few times and it did feel more efficient.
Overall Limar AirSpeed Bike Helmet Review
This road helmet has plenty of Triathlon. It appeals with proven aero dynamic advantage and the magnetic buckle for transitions. Also with the added benefit of it been light comfortable and keeping you cool. I would definitely consider wearing the Limar Air Speed in a triathlon rather than full tt helmet. Especially in hot conditions as well as wearing it for training.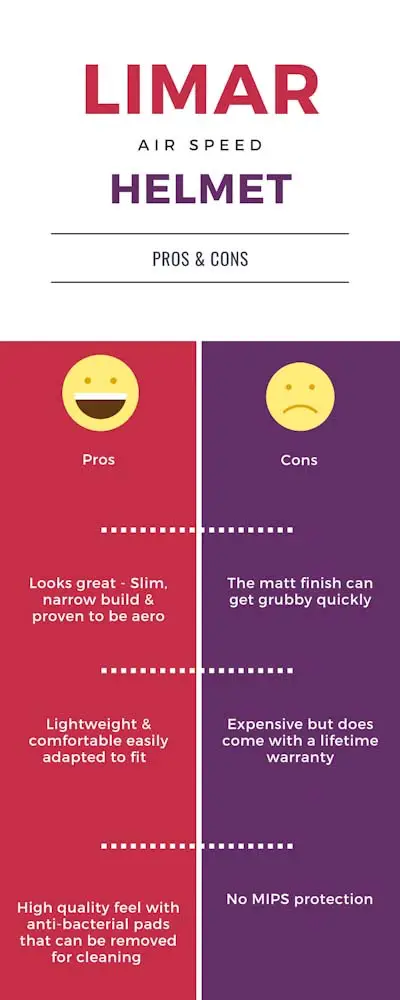 Thank you for reading I hope this helps you decide if the Limar Air Speed is the helmet for you.
Buy the Limar AirSpeed Helmet for £179.99 direct from Limar. Use the exclusive Trivelo code of "TRIVELO20" (Trivelo Two Zero) and get 20% off this price. This is against any of the Limar helmets in the range.
Check out our round up of the best road bikes for under £1500 for the perfect bike to use with the Limar AirSpeed.
See the video of Heather summarising her views on the Limar AirSpeed helmet