Lezyne's Strip Drive Pro is a good option for staying safe in winter and readily fits on a broad range of bikes.  Enclosed is our latest blog with the Lezyne Strip Drive Pro 300 Rear Light Review if considering a new bike light purchase.  
Construction of the Lezyne Strip Drive Pro 300
We've previously tested the Lezyne 800XL front light and are following up with the Strip Drive Pro 300 rear light that is a good compliment to the 800XL.  The Strip Drive Pro is made from a strong plastic with a silicone rubber cover weighing in at a mere 60g but in winter we're generally less precious about weight and more focused on staying warm and staying seen.  With rain a regular feature of the darker months the Lezyne stays watertight even with a USB recharging point at the base of the light.  We're 8 weeks into testing and no hint of a leak so far.  Recharging is taken care of by plugging the unit directly into your USB port and dispensing with and need for a lead.
Mounting the Lezyne Strip Drive Pro 300 on your bike 
The light is mounted with a rubber strap that hooks around the seatpost securely.  It means you have to manhandle the unit into place and no clickable system that some alternatives offer such as the Niterider series of lights.  Again the system is pretty simple but thus far secure.  We've had no incidents of the light becoming loose.
Battery life of the Lezyne Strip Drive Pro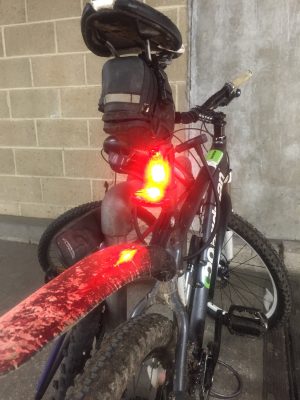 Battery life is not a key strength of the unit with it fading in a handful of hours when working hard.  It definitely merits daily charging if you are using for your commute morning and night.  The light is smart enough to switch modes when power is at a premium reducing to economy mode to preserve the last dregs of battery life.
To help support you on longer rides Lezyne offers a number of modes with 3 "on" modes and 6 flashing modes.  The maximum brightness is an obvious 300 lumens with the brightest flashing mode delivering up to 100 lumens.  There is a memory function that remembers the previous mode before shut down to restart with when you turn it back on.
Summary of the Lezyne Strip Drive Pro 300 Rear Bike Light 
With rides of under 4 hours this offers a pretty good option being lightweight and offering a flexible range of modes with the added bonus of being rechargeable through a waterproof USB. For £30 it gets the thumbs up from us and we'd recommend it in conclusion of our Lezyne Strip Drive Pro 300 Rear Light review.
Best place to buy the Lezyne Strip Drive Pro 300 – £44 from Sigma Sports (at time of writing)