This week we have the first review from Paul who has been completing the KitBrix CityBrix Bag review. KitBrix are well known on the triathlon circuit with their revolutionary transition set of inter-connected bags. They also have been developing the CityBrix bag as an answer to the problem of commuting by bike and shepherding kit around. We've been enjoying getting to grips with the CityBrix in this latest review.
Introduction to Paul
I am Paul Addicott, keen runner and Ironman triathlete. I have run in 59 marathons, completed 4 Ironman triathlons, and been an Official pacer at 86 events worldwide.
First impressions of the KitBrix bag
My first impressions of the bag were that it seemed very big. However, the individual pockets did not seem that large. When I first started to pack it I realised how efficient the storage was. I enjoyed finding lots of different accessories within the pockets. It is clear that KitBrix have thought of everything, from wet clothes, to headphones, keys and pen pockets.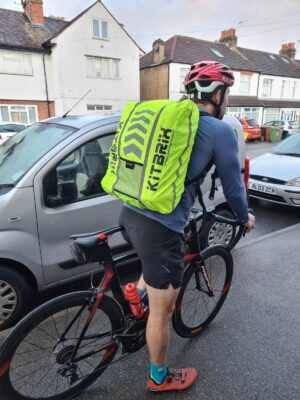 Specifications of the KitBrix CityBrix Bag
The bag is large but compact for daily use. I'm 5 10″ and it is the perfect size for me. The best feature of the bag is all the different compartments. First of all there is a section along the back which can fit a laptop and documents. It doesn't matter if this is an odd shape because of the padding on your back.
There are two large compartments of equal size. The lower is designed for wet clothes. I often use it for my gym kit, or sometimes for a 1.5 litre bottle of water and my lunch. The upper compartment is for dry items, and I always put in my shirt and other accessories which I then iron at work.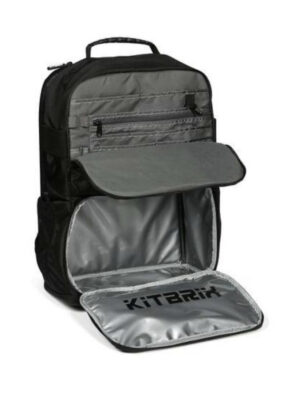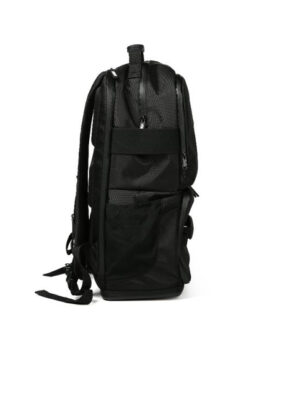 There is another section in the top compartment which is handy to organise keys, mobile, wallet, pens and any other bits you need to carry.
Dimensions – 47 x 20 x 34cm
Volume – 25L
Laptop dimensions – up to 17″
Testing the KitBrix CityBrix
The bag is water resistant and spacious. The supported back and straps make the bag comfortable to run and cycle with. The various pockets mean you can have your phone, keys and wallet at hand without losing them within the rest of your kit. The wet clothes section is a great addition to the bag. It means that you can have your wet clothes in your bag, without having to worry about them getting the rest of your bag wet and smelly. The rain cover fits perfectly and helps the water resistant bag keep everything dry. I have used this bag in torrential rain, where I have come home absolutely soaked, with nothing in the bag had become wet.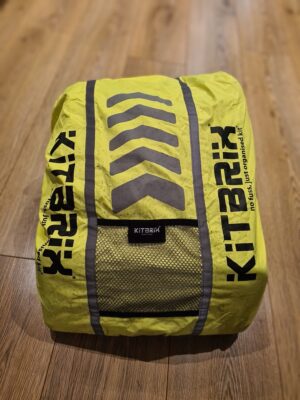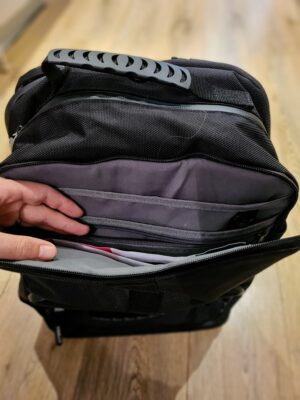 I have used this bag for 3 months, in the sun and rain. I have used it with a laptop, gym kit, clothes, water and lunch. The bag helps to distribute the weight, and it feels comfortable regardless of whether it is full or not. It has enough space for everything I need in a bag, and cannot imagine wanting more. The bag is water repellent to start with, but I also come with a rain cover which is easy to fit, s even in torrential rain the contents of my bag have been dry, even when I'm not.
The bag is well padded, so even on the run its remained comfortable. You can adjust the straps to have the bag tight, so it doesn't move whilst running or cycling. It also comes with a chest strap for added to support. I don't use this personally as I don't like or need the added support, but if you have a smaller frame this would come in handy.
Positives of the CityBrix bag
Water Resistant
Comfortable
Spacious
Sections for all your various items
Easy to find essential items
Weaknesses and areas for improvements
The sections are great to fold or roll clothes, and iron if necessary when you get to work. If you wanted to take a suit or hang items then the bag is not big enough.
A further potential weakness is if you have a really small frame, the bag would be big on you. That said, if you have a lot of stuff to take on your commute then its perfect.
Summary of the KitBrix CityBrix Bag Review
I have spent years just throwing my belongings into one bag, and I've been happy. But now I feel so much more organised thanks to the CityBrix bag. There is a place for everything, and room for everything I need. If I get soaked I can put my clothes separate to everything else and still keep the rest of my belongings dry. This genuinely is the perfect bag for someone who either run or cycle commutes. It is also in my view good value for money, a quality piece of kit.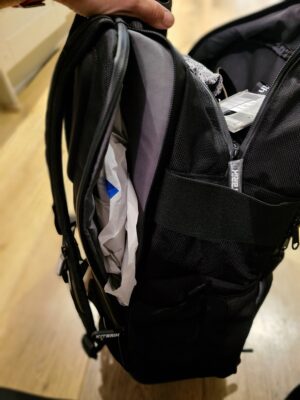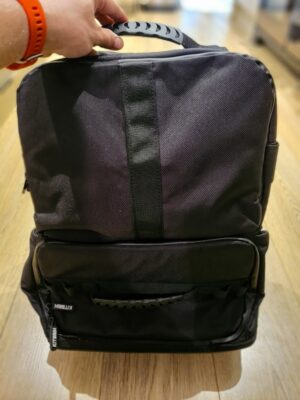 If you are looking for comfort, durability and all the space you could need then this bag is for you. For the last five years I've been wearing my Ironman bags and didn't think I could want for more. That is of course until I used the City Brix from Kitbrix. It is described as a bag to work hard and play hard, the bag for commuters.
Hear directly from Paul in his video review of the KitBrix CityBrix Bag where he talks through each of the bag compartments.
Best Price for the KitBrix CityBrix
Buy the KitBrix CityBrix bag for £99.50 direct from KitBrix shop on Amazon.
Read further reviews from Trivelo with a review of the KitBrix Triathlon bundle. Find out why we feel this could make triathlon a less stressful affair and transition smoother. And faster.