Our latest review comes from Douglas who has provided his first review for Trivelo. The impacts of Coronavirus has resulted in us all training indoors through the summer much more than ever before. This shift in our training pattern means interest on indoor cycling trainers has never been higher! To help you train smarter and go faster we our thrilled to share the Wattbike Atom Review from Douglas.
An Introduction to Douglas
Profile. I'm a 57 year old, 77kg male. A regular cyclist doing roughly 200km per week. I am Ex-Army but still cycle for Army Cycle Union and my local cycling club (Reading CC). Current bike is a Cannondale R700 following my previous bike being destroyed in car incident.
The Award Winning Wattbike Atom
Wattbike was formed in 2000 seeking to innovate the indoor cycling trainer market. They have been working over the past 20 years to try to accurately replicate the sensation of riding on the road. The company have had a long relationship with the British Cycling team endorsed by them in 2008.
The company began development with a focus on Watts. Their approach has been to develop their indoor trainers using the power output to aid a cyclists training. This laser focus lead to the launch of the Wattbike Atom in 2017 which they have since updated in 2019.
If data and watts are something you have an increasing interest in then check out our article on Power Meters and are they really worth your money.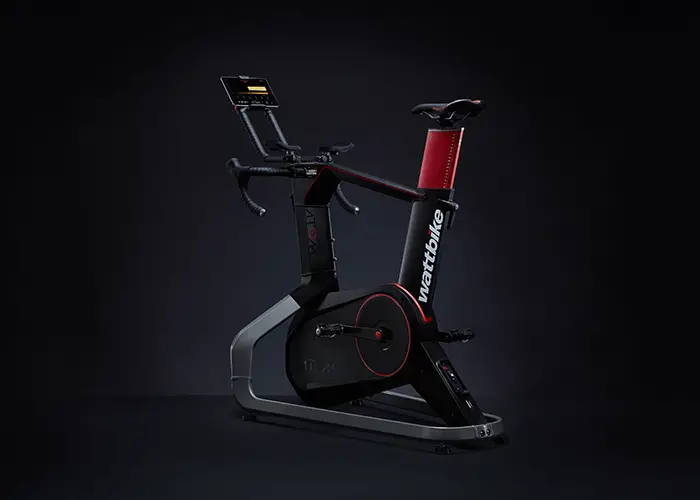 Delivery of the Wattbike Atom
In January of this year I finally took delivery of my much awaited WattBike Atom. I had been looking at a way of augmenting my riding and doing some specific workout plans particularly with a Power Metre.
What App to use with the Wattbike Atom?
Initial couple of weeks was spent using the various apps to find out what was going to work best for me.
WattBike Hub App. I like the pedal performance reading, very useful to assess weighting. The app is okay for short duration / high intensity workouts (say whilst in a hotel gym) but too boring for longer than 45 minute rides.
FulGaz App. Has great videos and offers the opportunity to cycle places I may never get to. On the downside it has limited heads up data. The videos that include other riders make the ride become unrealistic due to speed differences.
Rouvy App. I really wanted this to work as I use AppleTV. It didn't at first but now it does but my impressions on it is that is unfortunately just odd!
Zwift App. My current app of choice (I am at Level 19). It comes with good workout plans and the opportunity to join group rides and workouts. Power data transmitted from Atom can fluctuate widely at times but generally output is consistent.
Functional Threshold Power Test
I completed an Functional Threshold Power (FTP) test in January 2020 with a result of 175 Watts. I then completed the Zwift FTP plan and in four weeks raised my FTP to 195 Watts. In recent weeks I have completed my first virtual time trial, first virtual crit and various group rides. My FTP is now 211 Watts and I've moved from CAT D to CAT C.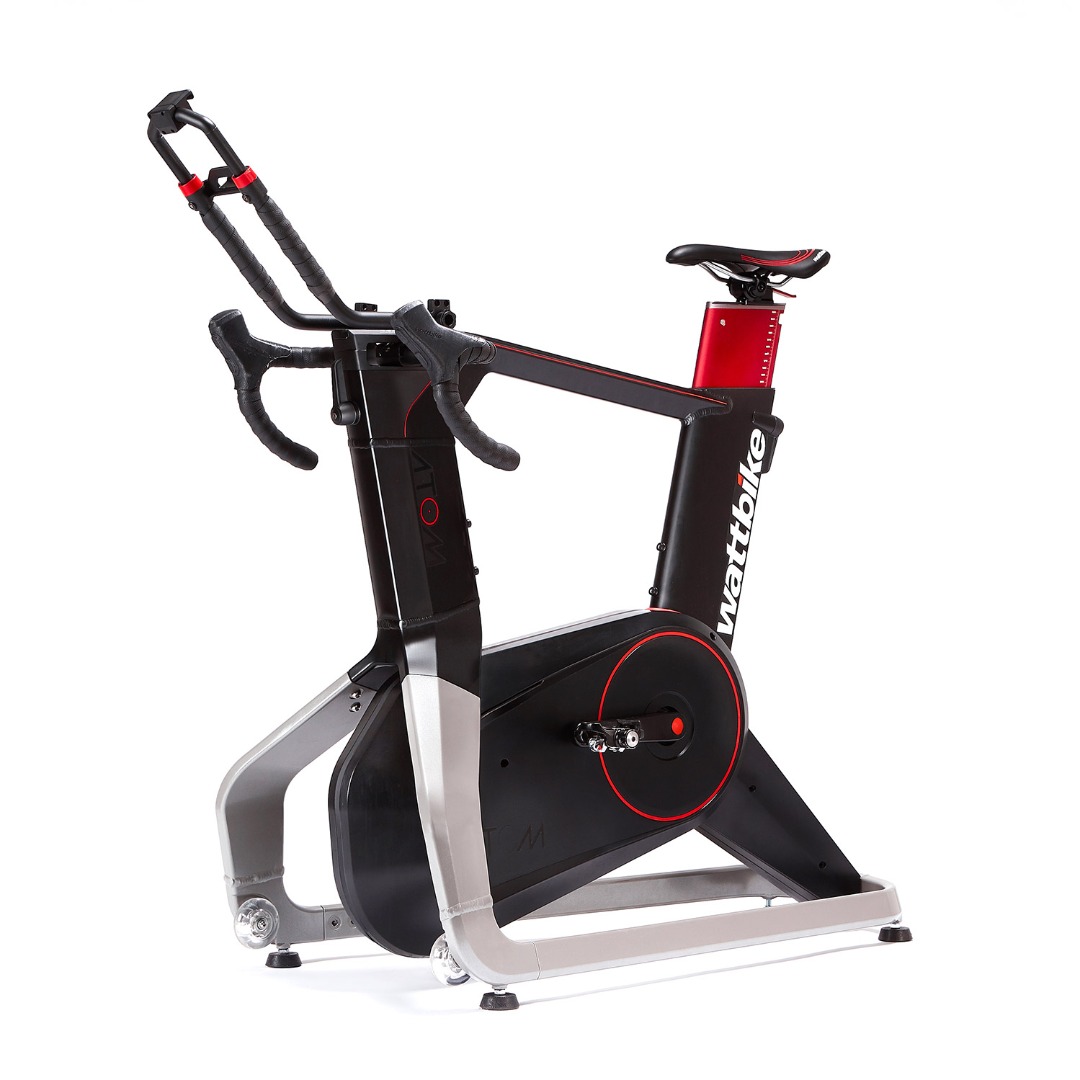 Data driven indoor cycling training
What Zwift and the Atom allow is continuous output of watts via the heads up display and W/Kg in the right hand board. This allows you to monitor your output as you ride. For instance I now know that for a flat 30 minute time trial ride I can hold a constant 185 Watts. Whereas for a short but hilly route such as Bologna I can do 195 Watts to the base then ramp to 240 Watts. I'm not going to win Le Tour but I'm challenging myself!
For something like Alpe du Zwift (not currently a love affair) I start well on the Fire and Ice route. I can hold a steady 185 Watts for an hour but the last 20 mins I'm dropping. Work is required clearly for me but the power meter has really assisted me in identifying the issue and in helping me resolve this. From using since the start of the year very positive experience from my Wattbike Atom Review.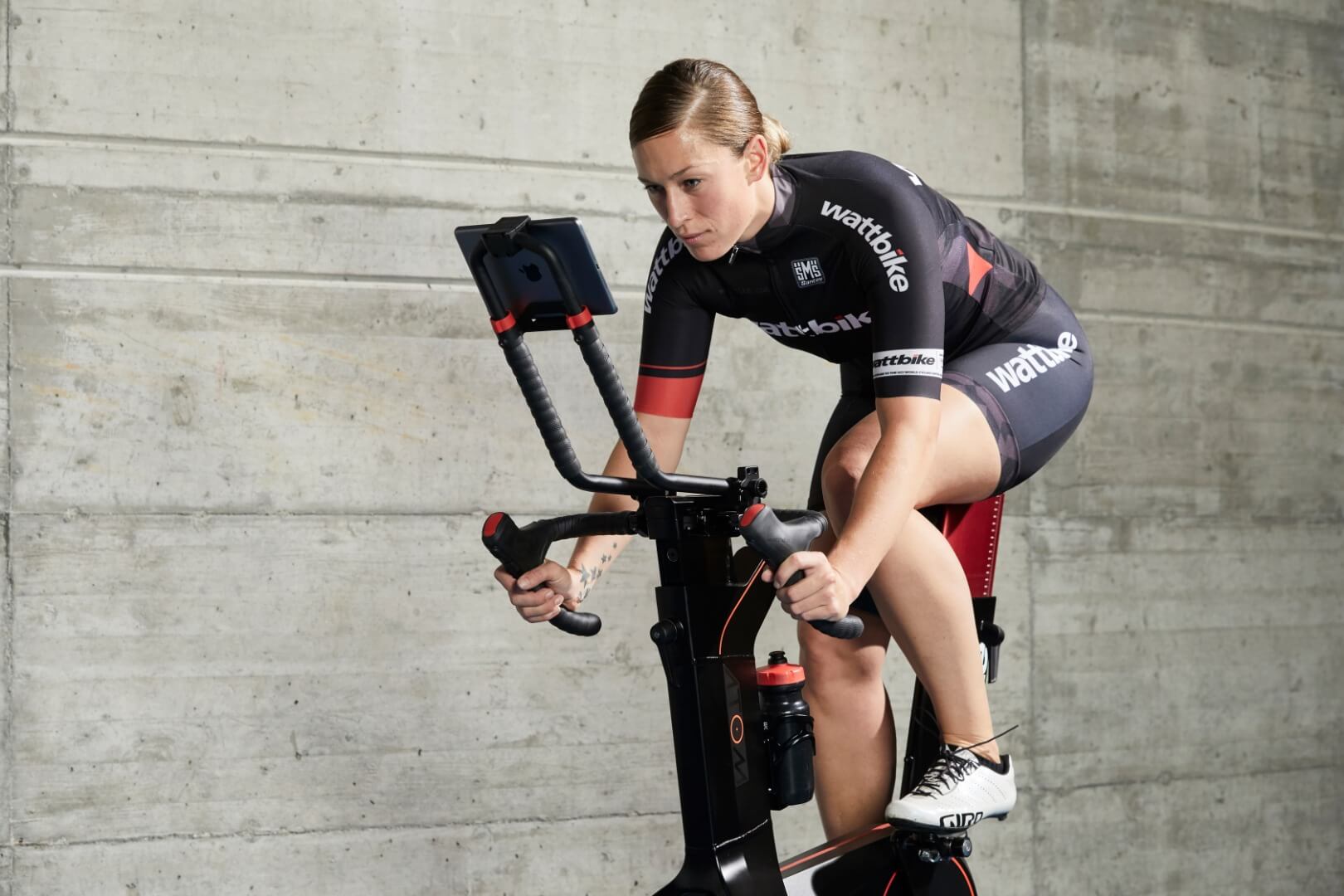 Wattbike Atom Specifications
SMART TRAINER CONTROL: ANT+ FEC and Bluetooth Smart Control
GEARS: 22
GRADIENT: Range 0–25%
THIRD PARTY CONNECTIVITY: Via ANT+ FEC/ANT+/Bluetooth Smart Control
HEIGHT: Max. 150cm (fully extended tablet holder)
WIDTH: 50cm
LENGTH: 100cm
WEIGHT: 44kg
FEET: Rubber feet
ROLLERS: Transportation rollers fitted
CRANKS: 170mm
SEAT: Racing seat fitted as standard
PEDALS: Flat pedals with toe cage fitted as standard
TABLET HOLDER: Can accomodate from 70mm–240mm in height
FRAME: Aluminium
HANDLEBAR FORE/AFT ADJUSTABILITY: Range 0–7.5cm
HANDLEBAR HEIGHT ADJUSTABILITY: Range 53.5cm–76.5cm
SADDLE FORE/AFT ADJUSTABILITY: Range 0–8.8cm
SADDLE HEIGHT ADJUSTABILITY: Range 57cm–83cm
POWER RANGE: 0–2000w
RESISTANCE: Magnetic
POWER REQUIRED: Mains adaptor
Buy the Wattbike Atom for £1599 direct from Wattbike.
Read our review of the PowerTap P1 pedal power meters if you want more information on power meters having read the Wattbike Atom Review.