Following the recent shut down of swimming pools and all options for swimmers the recent government announcement means swimming can resume. Finally open water swimming venues will be able to reopen and get us all back in the water after weeks of lockdown. It is important to note that the following is limited to England only.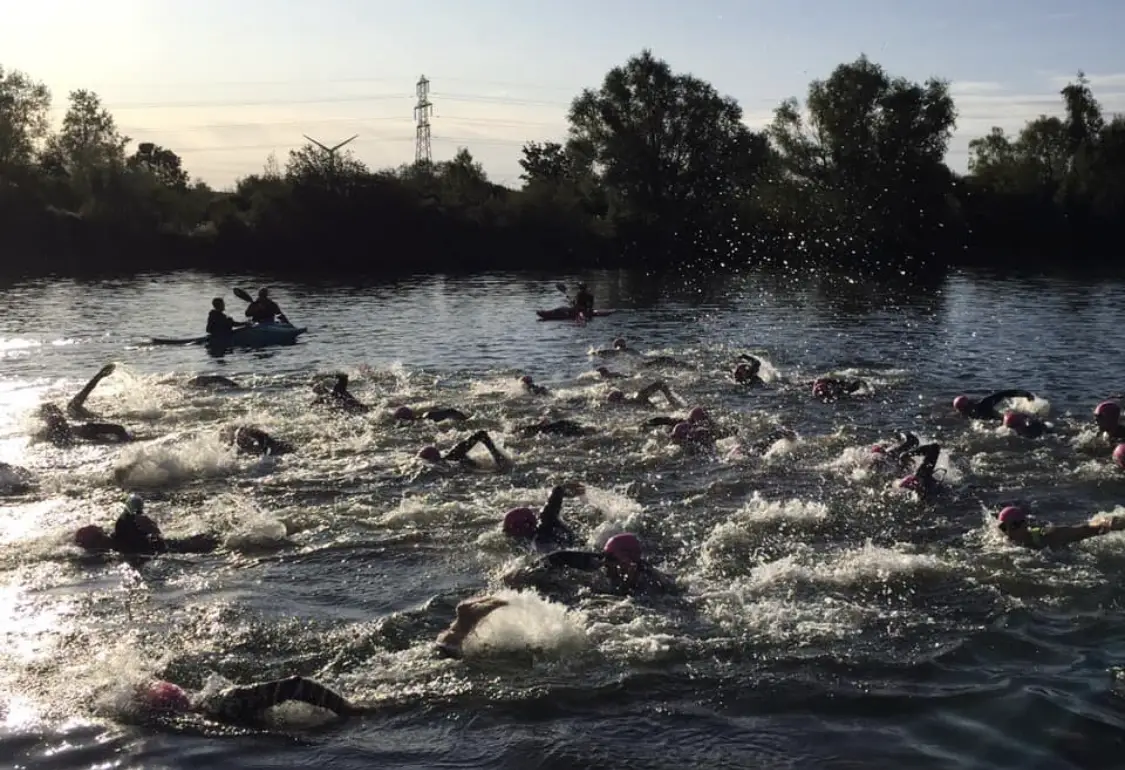 Government Guidance for open water swimming
In terms of the government guidance Prime Minister Boris Johnson confirmed that people will be allowed to swim in the sea or lakes from Wednesday (May 13) under the Government's new guidance. However, there are currently no plans to allow indoor swimming pools to reopen. The existing government guidelines extend through to the end of May.
Travelling to open water venues
We have been watching this closely, as triathletes ourselves we have been missing swimming for the past 8 weeks. The latest guidance means that according to Swim England, you can now go open-water swimming from Wednesday. With open-water swim venues able to start to open subject to the social distancing guidelines. On Sunday the UK government announced that there is no limit on how far people in England can travel for exercise. This was as long as they don't stay overnight with members of your household, or one other person while staying 2 metres apart.
Swim England response to guidance
The Swim England body provided the following response to the new ruling. 
"Our interpretation is that open-water swimming is considered a form of outdoor activity within the new guidelines coming into force from Wednesday (May 13). We recognise this will be welcomed by our open-water community. However, we are advising that only competent and experienced open-water swimmers use this form of exercise, whilst adhering to social distancing guidelines. Even then, we ask that swimmers consider the risks to themselves and others whilst participating in this activity as the majority of locations will not have lifeguards and there is a real risk of cold water shock at this time of year."

Swim England
Timeline to open water venues being open
How open water venues are able to make that work is not clear. They still need to consider the impact on their staff and how to apply social distance rules. Swimming in rivers in public locations or swimming in the sea would seem to be endorsed but official open water venues have other considerations. Simple steps such as how to take payment need working through. It is also important to consider the morale position here that while you are able to do this is it the right thing? If you put yourself at risk you then may need support from life guards and potentially emergency services. Putting measures in place from Wednesday 13th May will vary between locations.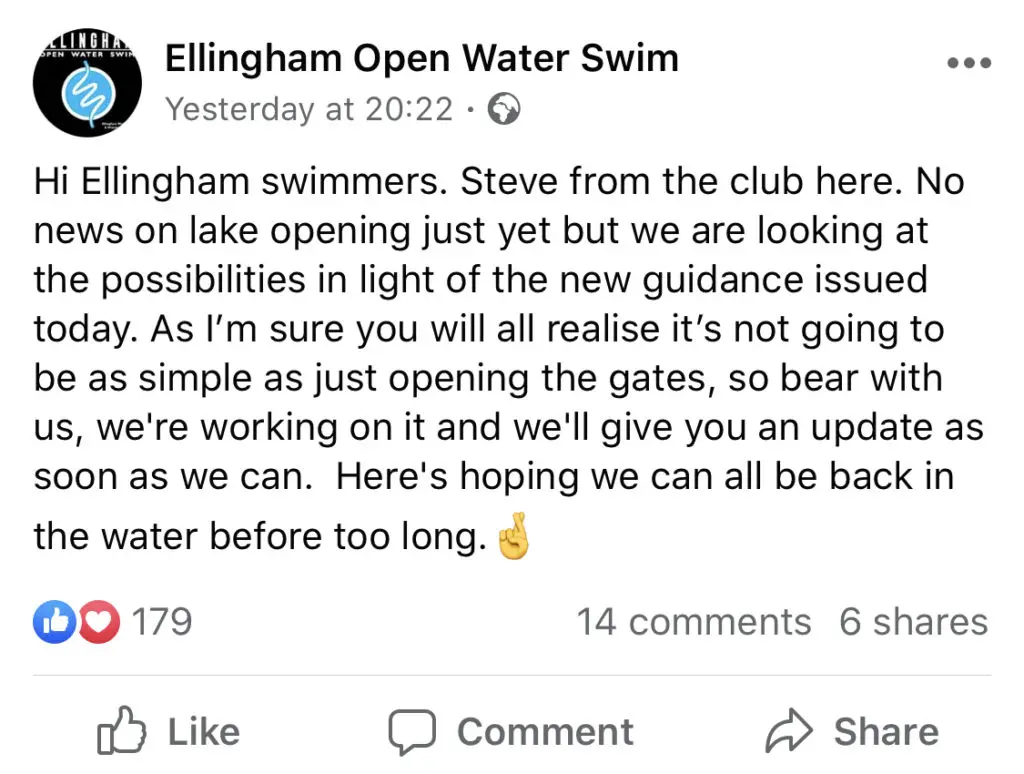 Updates from open water venues
The Quays Open Water Swimming Venue
Further to the Government guidelines set out on the 10th May, we can confirm the following; The relaxation of exercise regulations means that water sports like rowing, canoeing, sailing, angling and lake swimming can resume. However, how that works in practice remains to be seen, as we must all ensure that social-distancing regulations are adhered to, at all times. We are waiting for guidance from the Government on how to manage water sports safely, coupled with advice from National Governing Bodies. Once this has been obtained, we will then be able to see whether it is feasible for us to operate at this time.

Tri20 Swim Centre

Rob Gray – The Quays
Tri20 Swim Centre
Thanks all of you who have been in touch since yesterdays update from the Government, it was great to hear from you all. There appears to be speculation that swimming in lakes and rivers will be allowed however from our perspective, at the time of writing that's all it is, speculation. Until the Government provides further clarification, which should be available later today, we are not able to make any decision. Any decision we make will take into account Government Guidelines, your safety, our safety and our ability to provide a responsible service for you all. We'll keep you updated and hope to be able to see you soon (from a socially distanced position of course)!

Tri20 Swim Centre and MST Events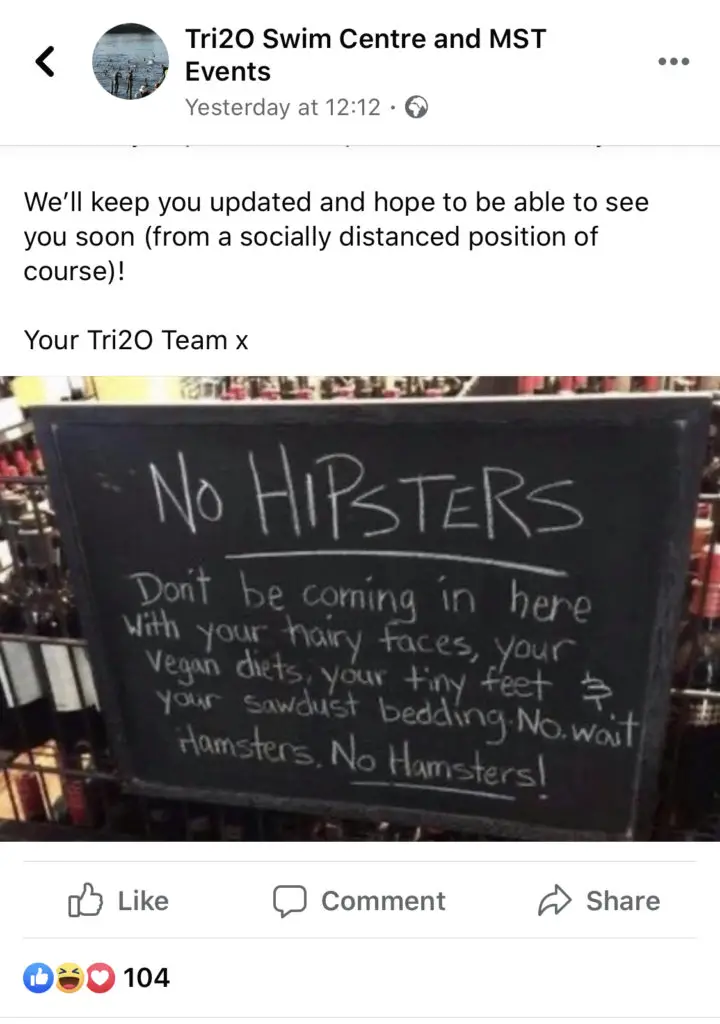 Swimming Pools Opening After Lockdown
Swimming pools have been closed since the beginning of lockdown. When the government give the green light for this which will be July at the earliest from the look of things this will need planning. All pools have been closed and some of these may never have been through something of this nature. Reheating pools take time. Social distancing measures will take time. All of this means pools will need weeks of planning to reopen.
Richard Lamburn, head of facilities for the national governing body Swim England, says he is hoping to be given three weeks' notice from the government ahead of time in order to get pools ready for use again.
"A lot of pools have never closed before so we've been providing the guidance and support needed to local authorities and operators to ensure they were safely shut down and maintained,"

Richard Lamburn – Head of Facilities Swim England
Looking for ways to stay sharp in Lockdown check out our tips for training from home. A collection of 27 tips from around the Trivelo team.