Aero bikes offer a viable alternative to a TT bike and a possible single bike for all things. Sportive. Triathlon. Training. Read more from Alice with her FELT AR2 bike review.
Bike Manufacturer – Felt
Bike Model – AR2
Overall Score –9/10
Price when purchased – £4000
Bike type – Aero Road bike
How long you have owned the bike – 4 years
Pros & Cons of the FELT AR2 Aero Road Bike
Pros
Lightweight frame.
Handles really well in both sprint racing and long distance.
Di2 gearing is superb!
Cons
Headset – regularly becomes wobbly and needs tightening or the bearings replaced.
When the Di2 battery dies it really does die! Although I have only had to replace the battery once in 3 years and the bike now runs better than ever.
The seat post bolts can come loose occasionally unless tightened to within an inch of their life's!

Introduction to the reviewer
I started cycling properly in 2014 and the first road bike I bought was a Felt AR5. Initially I began road cycling because I wanted to get into triathlon and have been training and racing ever since. I compete for the GBR AG team in both the sprint and standard distances and have recently started racing in middle distance events. Since riding I've upgraded my AR5 to an AR2 in 2016 as I was advised that if I wanted to do both draft legal and non-drafting events the AR2 was the way to go. In addition I use clip-on aero bars for my non-drafting racing and simply remove these for the draft legal sprint races. I use my AR2 for both training and racing although I now use the AR5 as my winter bike.
Introduction to the FELT AR2
The AR2 is part of Felt's Aero Road range and sits near the top of the AR's on offer (the top of the range is the AR FRD followed by the AR2). The AR range has been designed and developed in the wind tunnel to ensure this bike outperforms the competition in aerodynamics, weight and stiffness.

FELT AR2 Frame
The frame is made out of Felt Aero Road UHC Advanced + TeXtreme carbon fibre, MMC with InsideOut construction, BB30 bottom bracket shell and carbon fibre dropouts, 7075 CNC aluminium replaceable rear derailleur hanger, internal electronic-specific cable routing (this all seems like a lot of words to say fancy carbon frame but still!)
The geometry is more aggressive than sportive and the frame sizes do come up on the larger side. I usually need a 58" frame but in the AR range I am a 56".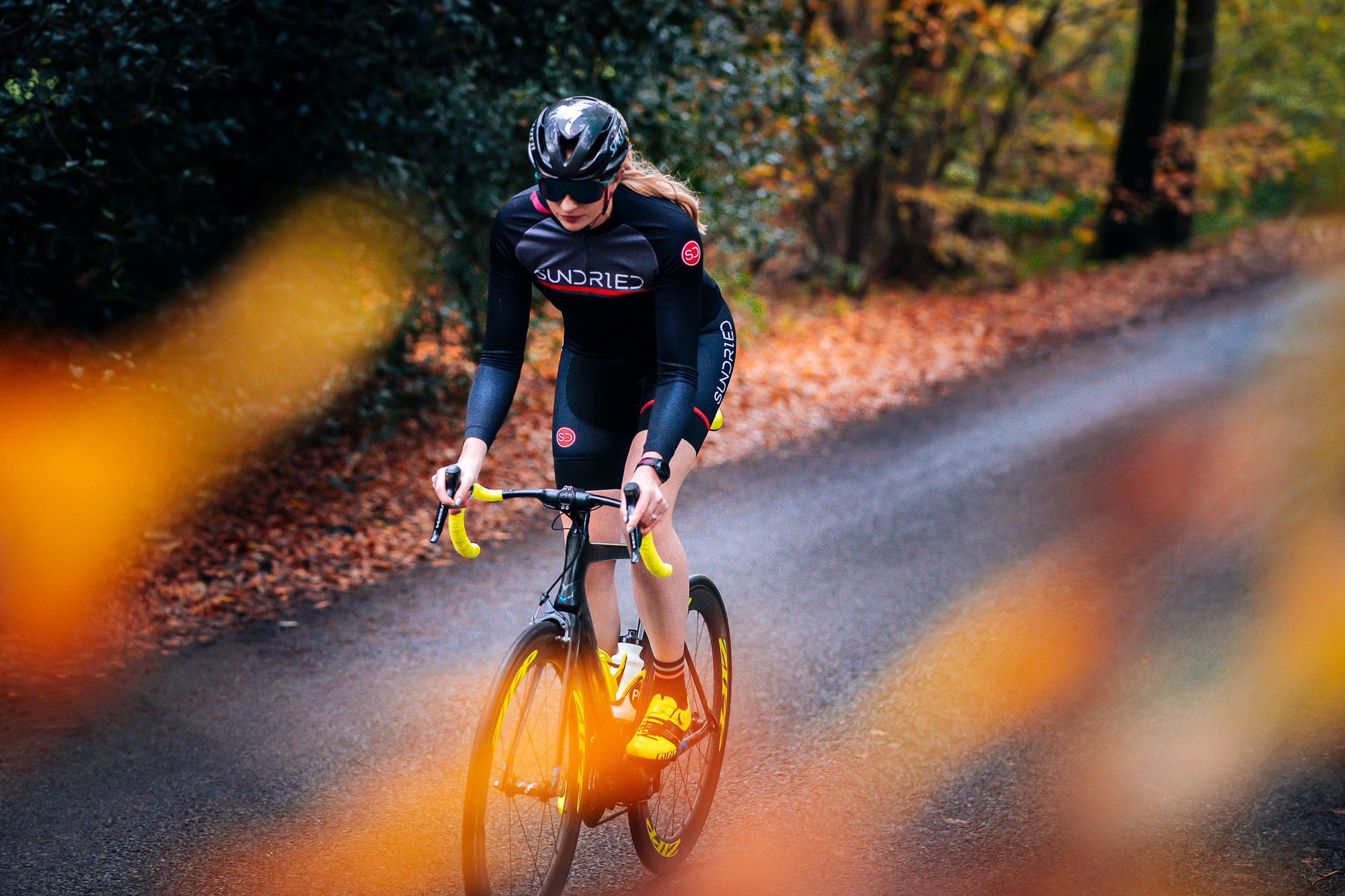 Bike Component Highlights
Shimano Ultegra Di2 11-speed group
Satellite Sprint Shifters – buttons rather than levers
Direct rear mount brakes hidden beneath the chainstays.
Headset – FSA No.38 integrated
Handlebar – 3T Tornova Team Stealth Carbon
Riding the FELT AR2
I love riding this bike!

Alice – Trivelo Test Associate
It took a little while to get used to the more aggressive frame but now it's super comfy and rapid! (my training partner almost collapsed after our first ride together after I bought the AR2 and then immediately upgraded his wheels to keep up!) The set up of the bike and the aero frame performs exceptionally over all distances – in the draft legal sprint races it's stable and incredibly responsive through technical courses (it sticks to the road when cornering at high speeds) but then also performs over the longer distances.
I did my first 70.3 race in Staffordshire in June having never raced over anything longer than 40km and was pleasantly surprised at how comfortable I felt using the TT bar set up for 90km. In 2018 I raced in both the Sprint and Standard distance AG World Championship races on the Gold Coast and it was great to only have to travel with one bike that would perform in both races with just the addition of clip on tri bars.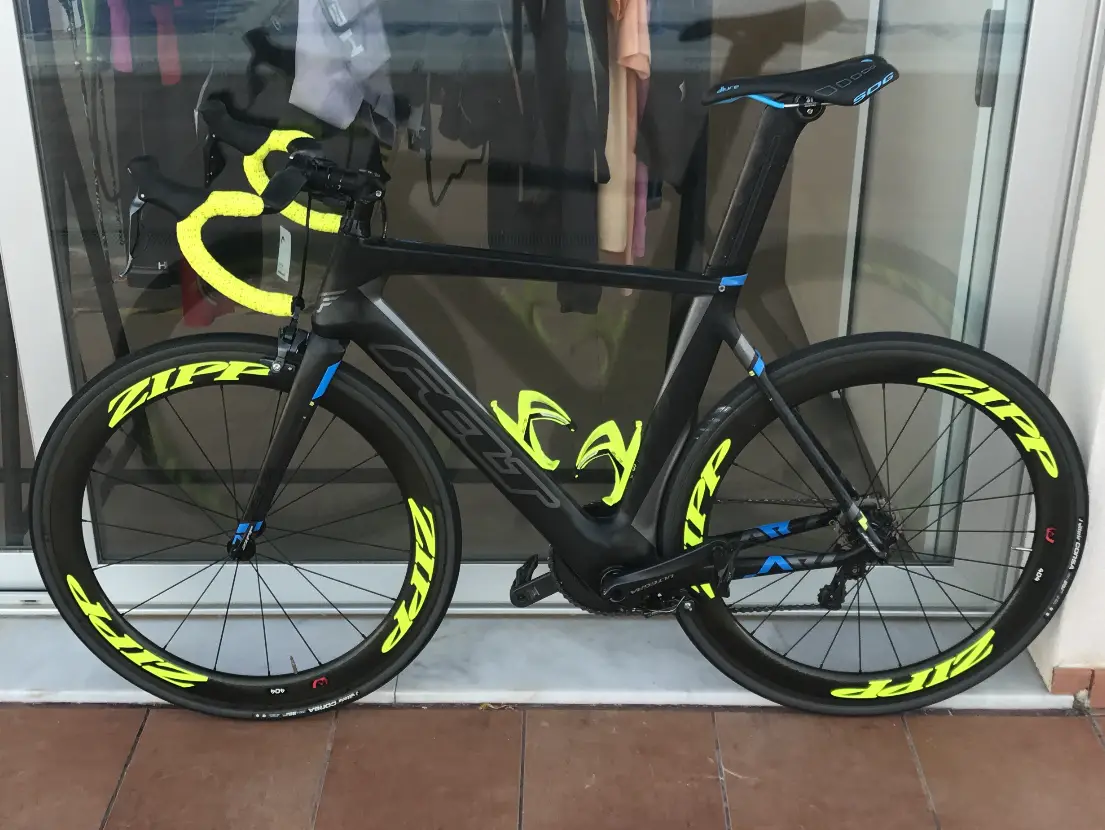 Upgrades made to the bike
I have upgraded the wheels to Zipp 404's and have done the usual upgrades like new bar tape, new saddle (Specialized Power Saddle) but apart from that I haven't needed to do any other modifications. I changed the wheels to carbon fibre ones as I felt like these were lighter and faster for racing than the wheels that the bike originally came with. The saddle I changed just because of personal preference and I find the Specialized saddle to be a lot more comfortable.
Summary of the FELT AR2 Bike Review
I'd highly recommend this bike especially if you are going to do a mix of different races. It's a great racing bike, handles well and goes like stink when you need to! I'd definitely invest in a saddle which is comfy for you due to aggressive position the style of frame puts you in and I also very quickly removed the chain catcher from the frame (I found it bunched up and then actually got caught up with the chain as opposed to stopping it from slipping) but apart from that I have nothing bad to say about the AR2! It looks great, it rides well and can be used for all kinds of cycling fun – what's not to love?!
Buy the FELT AR2 direct from Felt for 5999 Euros.
Alternatives to the FELT AR2 aero road bike to consider:
Trek Madone SLR 6 for £4399
Read more top cycling articles with a round-up of the 9 most popular cycling pages right now on Trivelo.