Triathlons require months and even years of training in order to participate. Often you might find yourself getting caught up in the world of training and realise as the race day approaches that you haven't properly prepared yourself with triathlon equipment. 
Below we have set out our guidelines on what to pack for a triathlon with dedicated sections on swimming, cycling and running. 
---
Swim
Triathlon essentials for the swimming section include many things you may already have laying around the house.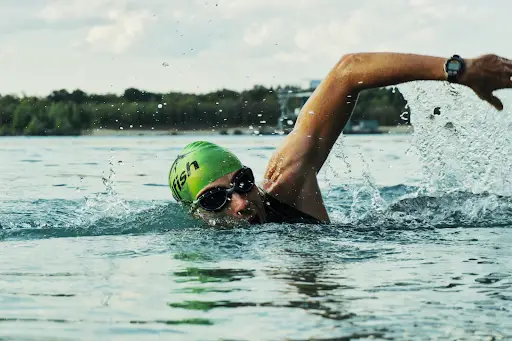 It is important to note that the swimming portion of a triathlon is the hardest out of the three and this is why we recommend reading a beginners guide to open water swimming before signing up. 
Wetsuit 
Wetsuits are no one's favourite things to get on and off but they are the top triathlon equipment recommended for the swimming portion.
If you are participating during cold weather they work to keep your body insulated, add buoyancy and protection from the elements. 
Choose a wetsuit that comfortably fits you even if this means the annoying and long process of trying lots of suits on. Suits made especially for triathletes will provide you with greater flexibility in the water.
A honourable mention must go to lesser known triathlon essentials such as vaseline and hair conditioner. Bringing small amounts of these along will help you slide in and out of your wetsuit a lot easier.
Goggles
A piece of triathlon equipment that should not be forgotten or overlooked is goggles. These allow you to see your journey up ahead and also stay alert of your surroundings. 
When shopping for goggles, we recommend you buy a pair that sits comfortably across your eyes and the strap should rest just above your ears without digging in. Lenses are often clear but you can opt for blue lenses which will help reduce the glare in the water and visibility on bright days. 
Tri Suit
Tri suits are a similar piece of triathlon equipment to a wetsuit. The difference is tri suits can be worn throughout the entire triathlon instead of just the swimming portion. 
You can buy them as a one piece or a two piece suit. The benefit of a two piece suit is that it allows easier bathroom breaks and greater flexibility with sizing while one piece suits can be slightly more difficult. 
Swim Cap
Swimming caps help to keep your hair dry and out of the way during your time in the water. When deciding on what to pack for a triathlon you may decide to choose the cheapest swimming cap available or use one provided at the event. 
This is totally acceptable but just be aware that the cheaper swimming caps have a greater chance of breaking. If you are looking for a slightly less affordable but more durable option, you should consider materials such as silicone and lycra. 
Towel 
A list of triathlon essentials would not be complete without a mention of towels. They are useful to dry yourself off after you get out the water so you can continue on to the other events without being wet or cold. 
The specs of a towel are completely up to you, whether you want to bring along a bath towel or just a hand towel, you make the call. 
---
Bike
The cycling section of our triathlon essentials list requires a handful of purchases for beginners but with lots of affordable substitutes. 
Chances are you already have a standard road bike at home that you have been training with. This is the perfect bike for beginners as it is fit for most road conditions, long distance biking and best of all you are comfortable with it. 
If you are looking to actively participate in more than one triathlon in your life then it may be better to invest in a tri bike. This is a piece of triathlon equipment that is essential for triathletes. It is built to be comfortable and aerodynamic, making it the best choice if you are turning triathlons into a lifestyle.
Helmet 
Helmets are not only triathlon essentials but they are also mandatory to participate. They keep your head safe from injury and aero helmets can even help with your cycling speed. You should choose a helmet that sits snug around your skull, with room for ventilation. 
Sunglasses 
Keeping a pair of sunglasses in your transition area is never a bad idea. They can protect you from the wind, debris and sun rays. Using your usual sunglasses is fine just don't choose your most expensive or favourite pair as chances are they will fall off and get broken. 
You can also choose to buy a pair of sunglasses with an attached band to stop them from falling. If you do go down the route of buying a new pair, you may like to look into glasses with photochromic lenses which automatically adjust to different light conditions. 
Cycling Shoes 
The criteria for cycling shoes isn't too intense. You should aim to find a pair that is comfortable, supports your feet, is quick to put on and an additional bonus would be they are made from fast drying material.
Socks
Many experienced triathletes leave socks off their 'what to pack for a triathlon' list. This is solely due to years of intense training. It can be tempting to follow their lead as it saves you time during the transition from swimming, but it is not recommended for beginners.
Instead you should aim to find a pair of comfortable socks with fast drying material so you can keep your feet protected and safe.
Tool Kit
Triathlons often have stations and people on hand to fix any flat tyres and other bike problems. This is great but you should not always rely on this.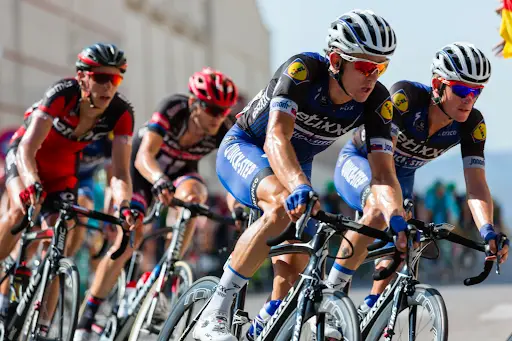 It is super beneficial to carry a small tool kit on you so if a problem arises you can quickly solve it and get going with no time wasted in between. 
Number Belt
A race number belt is fairly inexpensive and saves you from having to put safety pins through your clothes and risk damaging them. 
---
Run
Our list of triathlon equipment for the running portion of a triathlon features a host of affordable items for beginners. 
Running Shoes
There are many running shoes on the market, all promising many different things. The truth is that you don't really need them. 
Don't get us wrong they are great but often they come with huge price tags and the reality is, you can just use the running shoes you have been training in. 
Hat/Visor
Just like a swimming cap, using a hat helps keep your hair out of your face. It is important to choose one that protects you from the rain and sun while also featuring breathable material so you don't overheat. 
Socks 
Depending on the condition of your socks after the cycling portion, you may decide one of your triathlon essentials is an extra pair of socks to change into before starting the race.
Plasters 
Plasters are an essential piece of triathlon equipment included in our what to pack for a triathlon list. They can be used before the race to add extra support or used after the event for things such as blisters.
Energy Gels 
Energy gels can be taped to your clothing or kept in a small side bag for easy access. Providing your body with a quick boost of energy and hydration so you can keep going. 
You can also bring any energy drinks and nutritional supplements with you, although many people take these before the event or during the cycling portion.